When AIDS Coalition to Unleash Power (ACT UP) formed in the spring of 1987, its mission was clear: AIDS was no longer going to be ignored. If that meant shutting down Wall Street, interrupting a CBS Evening News report, and dropping a giant condom over Senator Jesse Helms' house, then so be it. And while those in-your-face tactics were very controversial, they were sorely needed during the pre-HAART era, when too many people were dying. ACT UP's tireless work changed the game of AIDS activism, but most importantly, it helped fast-track lifesaving drugs that morphed this epidemic from an automatic death sentence into a manageable disease.
This spring, ACT UP turns the big 2-5, and to commemorate its silver anniversary, TheBody.com sat down with Robert Vazquez-Pacheco, former member of ACT UP, to discuss the organization's biggest achievements; the race and class tensions between members; and the need for older leaders in the HIV/AIDS movement to encourage and mentor younger leaders.
Read Charles King's ACT UP interview here.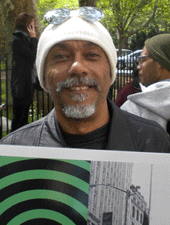 Robert Vazquez-Pacheco
Why did you become involved in ACT UP?
In 1980, Jeff, my boyfriend, was diagnosed with KS [Kaposi's sarcoma]. He progressively got sicker and sicker. When he died in 1986, afterwards I needed to do something. So I was volunteering for an organization at The Center and every Monday, my friend David Kirschenbaum (who actually became an ACT UP member as well) and I would walk through the ACT UP meetings. Finally we decided, "Well, let's check out what this is about."
After we did that, we decided to join. But I also joined because I felt like I really needed to do so. I saw how Jeff had been treated and I thought, you know, this is just horrible. No one deserves to be treated this way.
Did you test positive before joining ACT UP, or after?
Before. Well, I mean, I found out by figuring it out, but I wasn't tested until after I joined ACT UP. Looking back, I had the classic flu that wasn't the flu. And I thought about it and read about infections and stuff. Most likely I was infected in the spring of 1982.
What year were you diagnosed?
In 1987. Yeah. I knew that I was positive, but ... I mean it's funny; I wasn't actually worried. During that time I was actually taking care of my lover. And so, for me, the bigger priority was taking care of Jeff. As long as I was healthy, I was OK.
Let's switch gears and talk about your experiences with ACT UP. ACT UP definitely did have members of color, and women, but I read an interview that you did with the ACT UP Oral History Project and you talked about being one of the few people of color involved at meetings.
Most definitely. I mean, there were a few prominent people of color in ACT UP. In the beginning, there was Ortez Alderson, and then there was Robert Garcia, both of whom have died now. And then myself. And then it was Moises Agosto and Keith Cylar.
I just remember there were so many conversations where people of color had to correct the room about things that were being said and assumed. Ortez was doing it all the time. God bless him; he had the patience to harangue people. He would just get up and say, "No. That is not the issue if you're a black person. And you can't assume that."
And from that frustration we started up the Majority Action Committee, which had some people of color, but mainly a lot of white people. Charles King was in it. And Keith joined it later. Then Moises and a couple of other folks started the Latino Caucus, and they started doing work, as well. But there was a time when I could look around and count on half of one hand the amount of people of color in the room.
Why do you think there weren't that many people of color? It's New York City, a city full of diversity.
Advertisement
I think that there are a couple of things that created this disconnect. From the beginning, people saw HIV and AIDS as a gay white man's disease. So a lot of people in communities of color were, for whatever reason, ignoring the epidemic. "I know that HIV is about white fags; that's not our concern."
And then what happened, too, was that for people of color, especially in the early days, obviously, to deal with HIV and AIDS meant you had to come out -- not just about your status, but as a gay man. In communities of color, the network of family and friends is very, very tight. When you go out of that network, you can really be risking your life. So, in order to come out and talk about that stuff, you may take yourself out of that safe environment of the people that would normally support you. That's a huge risk that a lot of people were not willing to take. That's not to say that it doesn't happen for gay white men. But in American society, for the most part, people of color get a majority of their support from other people of color.
So I think that partially those were reasons why as well. And also stigma. I used to be the director of education at the Minority Task Force on AIDS and I remember going out in communities of color and arguing with them, saying "This is not a gay white man's disease." You know? I'd say, "Look. I'm not a gay white man!" I would also tell them that this wasn't just about IV [intravenous] drug users either. There was a lot of shame and fear involved.
When they first closed the bathhouses in New York City, the ones in Harlem still stayed open. They never closed Mount Morris, and this was at the height of the argument about the bathhouses and the role they played in the epidemic, yet not one bathhouse that was located in communities of color was closed. So, in some ways, that tells you where sort of the health and welfare of people of color were on the general radar ... which is that they didn't care.
What were some of the major tensions in terms of race and class that you came across?
There was this assumption that "we're all gay here" and how that should transcend everything. And I quickly learned that that stance didn't work for me. My experience as a working class Puerto Rican man who grew up in the South Bronx is very different, for example, from Peter Staley's (who I adore).
One of the things that I saw was that the gay white men organized in ACT UP ... let me preface this by saying that I will be forever grateful for them, because if they hadn't done anything, we'd all be dead, but they organized because they knew that the system that they grew up with wasn't working for them. It suddenly had betrayed them and didn't actually care about their lives. They didn't say that the system was flawed; they believed it could be repaired, tweaked for it to work better. Whereas for women and people of color, women and people of color said, "This system has never worked for us."
We were like, "The system has to be scrapped and we need to come up with something new." And so there were plenty of arguments where people of color would say, "Hey, this situation demands more, because we do not have access to the same system that you do."
And that, I think, was an eye opener for a lot of the folks in ACT UP, many of whom were professional middle class guys. This was the first time that they ever started really interacting with IV drug users, women and people of color. So part of it was an educational process. In some ways, Ortez and Robert would sort of harangue them. And then I'd sort of pull people aside and I'd try to talk to them, because sometimes you catch more flies with honey. I realized that sometimes you just can't beat people on the head with a stick, because with some of them, they just didn't understand; they didn't know.