Is Your Church Testing for HIV?
By Rev. Andrena Ingram

April 5, 2012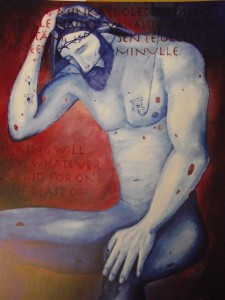 "If one member suffers, all suffer together with it; if one member is honored, all rejoice together with it." 1 Corinthians 12:26. Image credit: Maxwell Lawton.
The body of Christ has AIDS ...
Years ago, as I began my CPE training (Clinical Pastoral Education) in a hospital in New York, I entered an office and saw this painting, and was intrigued. I learned about the artist -- Maxwell Lawton, and even had the opportunity to speak with him briefly on the telephone. I am sorry I never got to meet him in person. He passed away in 2006. You can learn more about him here.
It is a painting which may cause some folks angst, to see Christ covered in lesions, more commonly known as "Kaposi's sarcoma." Alarming to imagine that our Lord Jesus Christ is depicted as such. But it brings home to me the concept of all of us belonging to the body of Christ, that each of us is a part in that body. And if one of us suffers, we all suffer (1 Corinthians 12:26).
If this is the case, why aren't we doing all we can to see to it that "the body" is as healthy as it can be? Not only spiritually, but physically as well.
One in five persons are unaware that they have HIV. Is it too much of a stretch to think that one of those persons are not sitting in your pews? Why are faith communities not using their sanctuaries/buildings to hold testing; first for their leaders and congregation members and then out into the community? We hope and pray and teach with fervor about abstinence, and about risky behaviors -- but those messages are not a reality for everyone.
A dear woman reached out to me yesterday from somewhere in Maryland. A relative of hers sent her an article which was printed about me (an HIV-positive pastor, once homeless ...), and she identified with so much of who I am, that she wanted to reach out to me. I learned that she was 65 years old, in recovery for 16 years AND has been living with HIV for 27 years!!!! During our conversation, she shared with me that if I ever needed a "speaking buddy -- or someone to speak at an event" to give her a call. I agreed, but then I asked her about her faith community. I asked her, "does your church conduct HIV testing -- are they allowing you space to share your message?" Her answer ... No. She does most of her work outside the church.
I guess that is okay for some ... at least she is getting the message out there.
Too bad she's not given the opportunity to utilize her "gift" of knowledge and experience, in her congregation to usher in the possibility of HIV Testing, and not relegated outside the walls of the church.
How about your church? Are you testing? Are you talking about it? Have YOU been tested?
Get email notifications every time this blog is updated.
---
Add Your Comment:
(Please note: Your name and comment will be public, and may even show up in
Internet search results. Be careful when providing personal information! Before
adding your comment, please
read TheBody.com's Comment Policy
.)