When AIDS Coalition to Unleash Power (ACT UP) formed in the spring of 1987, its mission was clear: AIDS was no longer going to be ignored. If that meant shutting down Wall Street, interrupting a CBS Evening News report, and dropping a giant condom over Senator Jesse Helms' house, then so be it. And while those in-your-face tactics were very controversial, they were sorely needed during the pre-HAART era, when too many people were dying. ACT UP's tireless work changed the game of AIDS activism, but most importantly, it helped fast-track lifesaving drugs that morphed this epidemic from an automatic death sentence into a manageable disease.
This spring, ACT UP turns the big 2-5, and to commemorate its silver anniversary, TheBody.com sat down with Charles King, president and CEO of Housing Works and former member of ACT UP, to discuss the organization's biggest achievements, the split between the LGBT (lesbian, gay, bisexual and transgender) and the HIV/AIDS movements, and the future of AIDS activism in the U.S.
What are some of the most significant achievements of ACT UP?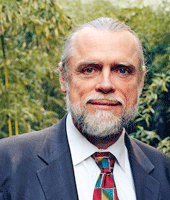 Charles King
Obviously, without question, ACT UP's biggest achievements were pushing and achieving the development of antiretrovirals. While it was science that did the work, it was ACT UP that put the muscle behind the science and made the systems work. We got the drug companies and got the community involved. Also, ACT UP can very much take credit for opening up the funding streams for prevention through the CDC [U.S. Centers for Disease Control and Prevention], as well as for the Ryan White Care Act. Certainly, there were a lot of legislators who claimed credit for that legislation, but it never would have happened if there hadn't been activists' voices out there demanding.
It's important to mention that the AIDS activism generated by ACT UP here in New York and around the country was a huge benefit to LGBT rights overall. I don't think we would have marriage today if we hadn't had ACT UP in the '80s, calling for people to be out about their HIV status, calling for people to be out about being gay. Before Queer Nation came into being, ACT UP was doing the kiss-ins and other gay visibility actions around the country that really helped to make it acceptable for gay people to claim their own place in this public space, and make it impossible for people not to recognize that there were -- that they knew people who were -- part of the LGBT community.
On a more local level here in New York, it was a partnership between the Housing Committee of ACT UP and the AIDS Project of the Coalition for the Homeless that really started this thicket of housing for people with AIDS and HIV in New York City -- that ultimately led to the formation of Housing Works. ACT UP actually gave us our first grant of $25,000 and I think it was money well invested, despite that it was a very controversial vote on the floor. ACT UP is also responsible for the legalization of syringe exchange in New York, thanks to the working group Majority Action.
What were some of ACT UP's largest failures?
Advertisement
ACT UP's biggest failure was that it walked away like it had won the battle. And yes, there are ACT UPs around the country and the world still doing work, but essentially once the spigot started flowing, and once the ARVs [antiretrovirals] became available, people acted like the battle was over -- and clearly it wasn't. I really hope that for the 25th anniversary, the new energy that's been brought to the fore by Occupy Wall Street will help us reengage people with the idea that the epidemic is no way near over. People are still dying. And we can still win this, but only if we go back to the tactics that made us very successful in the late '80s and early '90s, of direct action, smart policy formation, and civil disobedience.
Another failure of ACT UP was its difficulty to address issues of economic justice and race. Yes, there were people of color who certainly played key leadership roles in ACT UP, no question. Keith Cylar, my partner [who died in 2004], was certainly a powerful voice within ACT UP, as was Robert Vazquez-Pacheco. But there was definitely a split on how to address the issues that impacted people of color.
Despite Housing Works coming from ACT UP, ACT UP never really fully embraced and championed the role of housing as a structural intervention, the need to address homelessness as part of addressing the AIDS epidemic or other marginalized populations impacted by HIV and AIDS. There was a big division in ACT UP over things like this. There was a split that led the Treatment and Data Committee to walk out and form TAG. And where I think David France's film [How to Survive a Plague] only superficially describes that split, a lot of that split was about the people who wanted to solely focus on "Drugs Into Bodies," which would serve mostly middle class gay men, [versus those who thought] it was about the whole system of social and economic injustice that caused this [epidemic]. And there were plenty of people within ACT UP who just couldn't see that AIDS was about other social and economic justice issues. Because of that, so many issues got left on the table. But it was also because of the working groups, Majority Action and the Housing Committee that some of the economic justice work did get done; because these groups were constantly trying to hold ACT UP accountable.