Purpose and Background
The Expanded Testing Initiative aimed to increase the reach of HIV testing to disproportionately affected populations, including African Americans, Hispanics, men who have sex with men (MSM) and injection drug users (IDU) regardless of race or ethnicity. PS07-768 Expanded and Integrated Human Immunodeficiency Virus (HIV) Testing for Populations Disproportionately Affected by HIV, Primarily African Americans (October 2007 through September 2010), focused on the expansion of HIV testing to African Americans with emphasis on supporting the 2006 Revised Recommendations for HIV Testing of Adults, Adolescents, and Pregnant Women in Health-Care Settings. Funding for PS07-768 was awarded to the 25 jurisdictions with the highest burden of AIDS cases among African Americans.
Epidemiology of HIV and HIV Testing among African Americans
As of 2008, the Centers for Disease Control and Prevention (CDC) estimates that of the 1.2 million persons living with HIV, over 500,000 are African American.1 Although African Americans represent only 13.6% of the US population, in 2009, they accounted for 52% of HIV diagnoses and 44% of new infections, with a new infection rate 7.7 times that of whites in the US.2,3 The HIV prevalence rate for black women is 18 times that for white women, and the HIV prevalence rate for black men is six times that for white men.4 Furthermore, the burden of HIV is greater among some subpopulations. For example, in 2009, when examining behavioral risk groups by age, black MSM aged 13-29 years accounted for 66% of all new HIV infections among blacks.3
CDC estimates that about 21% of infections among African Americans are undiagnosed.4 Although in 2007 a greater percentage of adult African Americans surveyed reported having been tested for HIV (52%) compared to Hispanics (38%) and whites (34%), 31% of adult African Americans have never been tested5 and over 70% report not being offered an HIV test by their health care provider.6
PS 07-768 HIV Testing Outcomes Among African Americans
PS 07-768 activities were monitored with data reported to CDC by grantees in aggregate through the Annual Progress Reports (APR) and at the individual test level through the National HIV Prevention Program Monitoring and Evaluation (NHM&E) reporting system. NHM&E data are a subset of all tests attributed to PS07-768 reported in APRs. NHM&E data reported here describe test level data attributed to PS07-768 submitted by grantees for all 3 years.
Number of PS07-768 Attributed HIV Testing Events and Newly Identified Confirmed Positives Among African Americans by Year
Overall HIV Testing and Positivity
Over the 3-year period, of the 2,786,739 tests reported in aggregate in grantees' APRs, 1,411,780 tests (60%) were conducted among African Americans, of which 11,638 were newly identified confirmed positive (0.8%).
Of the 2,011,540 testing events7 reported through the NHM&E system for PS07-768, 1,156,055 (57%) were among African Americans, of which 9,095 were newly identified confirmed positive (0.8%).
Almost 65% of HIV testing events among African Americans occurred in health care settings, yielding a 0.7% newly identified confirmed positivity rate. The newly identified confirmed positivity rate in non-health care and other settings was 1.2% and 0.5%, respectively.
Percentages of HIV Testing Events, Confirmed New Positives and New Positivity Rates Among African Americans by Service Setting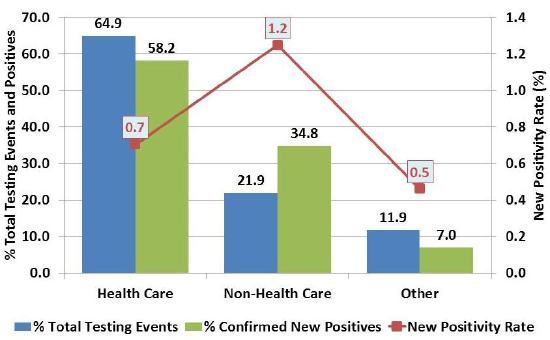 (Please note: Your name and comment will be public, and may even show up in
Internet search results. Be careful when providing personal information! Before
adding your comment, please
read TheBody.com's Comment Policy
.)