The Female Condom: Safe, Sexy and Cost-Effective
March 30, 2012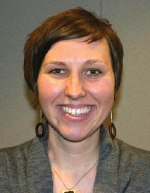 Jessica Terlikowski
This week the journal AIDS and Behavior published study findings stating that the Washington, D.C. female condom education and distribution program is a cost effective strategy for reducing new HIV infections. The data overwhelmingly demonstrated that dollars invested in the program resulted in a cost savings of more than $8 million due to the prevention of nearly 23 HIV infections. The program is administered by the Washington AIDS Partnership (an AIDS United Community Partnership) and the D.C. Department of Health.
The female condom is an essential safer sex option for all genders seeking to protect the health of themselves and their partners. It is the only receptive partner initiated HIV, STI, and pregnancy prevention tool available. The female condom can be used for vaginal or anal sex.
The study's findings shatter the notion that female condoms and not a worthwhile expenditure for HIV prevention programs. The reality is female condoms work.
Lead author and chairman of the Department of Health Behavior and Society at Johns Hopkins Bloomberg School of Public Health, David Holtgrave, stated in the Washington Post that "When we think about what it means for a city or state to have a comprehensive HIV program, this study really says you ought to include female condoms as one element of a comprehensive program because it's acceptable, effective and cost-saving."
Atlanta, Chicago, Houston, New York City, and San Francisco have launched similar programs focused on increasing awareness, acceptance, and use of female condoms through equipping community educators, health care professionals, case managers, and other services providers with skills necessary to effectively promote female condoms within their communities. Each of these jurisdictions reports greater acceptance of female condoms among end-users and increased willingness among providers to promote them as a result of their work. Other jurisdictions are currently laying the groundwork to launch their own programs.
The energy and enthusiasm around female condoms has increased tremendously since the new and improved female condom, the FC2, hit the market in 2010. Last year each of the female condom programs in the U.S. came together to launch the National Female Condom Coalition to increase awareness, access, and use of female condoms through education, advocacy, and collaboration. The Coalition now counts approximately 40 health departments and organizations dedicated to sexual health and reproductive justice, gay men's health, HIV prevention, family planning, and HIV-positive women from across the country. This study will further strengthen advocacy efforts to ensure women and men in the U.S. and around the world are aware and can access this highly effective, pleasurable, and cost-effective prevention tool.
For more information about the National Female Condom Coalition, email jterlikowski@aidsunited.org.
Jessica Terlikowski is the director of regional organizing at AIDS United.
More From This Resource Center
---

This article was provided by
AIDS United
. Visit
AIDS United's website
to find out more about their activities and publications.
---
| | |
| --- | --- |
| No comments have been made. | |
Add Your Comment:
(Please note: Your name and comment will be public, and may even show up in
Internet search results. Be careful when providing personal information! Before
adding your comment, please
read TheBody.com's Comment Policy
.)