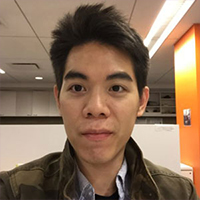 Warren Tong
I started writing poems when I was very young. In fifth grade, there was a poetry contest at my school. We were asked to write about tolerance. I was shocked when I actually won and got to read my poem during the morning announcements.
I don't have a copy of that "gem," but here are the first four lines that I remember. "What this world needs is more peace. / Violence to decrease. / Tolerance to increase. / War and crimes to cease." Or something like that.
I got a lot of, "Warren, you write poems?" from my classmates, mainly because I was the stereotypical Asian kid: Good at math. Yes, I was a math whiz for the majority of my academic career. But I did continue to write poems, though never seriously. They were mostly sappy love poems for girls I had crushes on. Nothing fancy, just rhymed couplets (nothing against rhymed couplets).
It wasn't until college that I realized my dormant love for literature and poetry. And I declared myself a poet. (A poet, I tell ya!) Then came all the forms, such as sonnets, villanelles, sestinas, rondeaus and terza rima. And rhythmic structures such as iambic pentameter and trochaic tetrameter.
Advertisement
Right now, I'm taking a poetry workshop. In it, we still discuss the age-old question, "What makes a poem a poem?" To tell you the truth, I sometimes find myself wiki'ing what poetry is. The bottom line is a poem can be whatever you want.
To me, what makes a poem a good poem is if it is clear and shows truth among injustice. If, in your poetry, you express yourself honestly and stay faithful to the common man or woman, then your poems will reflect that. And they will be good poems because you were not pretending. (Keep in mind these are not hard and steady rules, just a reflection of my personal preferences.)
I also enjoy poems that portray whimsy, extraordinary circumstances, surreal moments, underdog stories, triumphs, or courage in the face of despair. But if you happen to go the opposite route, it won't necessarily be a bad poem; I just don't find myself being drawn to such writing. After all, taste when it comes to art, poetry included, is very subjective.
I've very much enjoyed reading and editing all the pieces that have come in since we started doing Poetry Month at TheBody.com two years ago. Thank you all for sharing, and for trusting that your poems are good enough for others to see. As much as people write for themselves, writing is meant to be shared. Especially if the subject matter is as serious as HIV.
These are the poems that need to be read. So please send them in, and continue writing long after poetry month is over!
Some helpful links for poets (and writers in general):
Warren Tong is the research editor for TheBody.com and TheBodyPRO.com.
Follow Warren on Twitter: @WarrenAtTheBody.
Copyright © 2012 Remedy Health Media, LLC. All rights reserved.