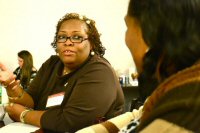 AIDS advocate Linda H. Scruggs at PACHA (photo courtesy of Victoria Quezada).
Women AIDS activists pushed for a more aggressive work from federal agencies to address the AIDS epidemic in women and girls, at the Presidential Advisory Council on HIV/AIDS (PACHA) meeting held on Tuesday and Wednesday this week in Washington, DC.
The meeting's agenda focused on the epidemic's impact on women, and what PACHA could potentially do to advise the White House and other agencies to respond the needs of women for prevention, treatment and care. Several researchers and advocates presented research and analysis detailing the disparate impact of the HIV/AIDS epidemic on women, and a need for focusing on some of the social determinants of HIV vulnerability for women including reproductive health services, housing, and responses to gender-based and intimate partner violence.
Advertisement
"Although there is language in the National HIV/AIDS Strategy calling for integration of HIV testing with reproductive health services, and a commitment to reducing mother to child transmission, these mentions are not sufficient to address the needs of women," said C. Virginia Fields, in a statement she read representing the
30 for 30 Campaign
.
On the second day of the meeting, Naina Khanna, PACHA member and Director of Policy and Community Organizing for WORLD, presented a resolution for PACHA to request the Office of National AIDS policy to create specific targets and goals in the National HIV/AIDS Strategy for women with HIV. The resolution was passed on to the Access to Care Committee, and will later be brought to a vote.
Some of the other issues that were raised at PACHA (but did not receive full attention of the meeting) were the impact of the Affordable Care Act on Ryan White CARE Act (specifically, if Ryan White loses major funding, what impact that will have on community based AIDS organizations), and using the International AIDS Conference as an opportunity to draw the American public's attention to the domestic AIDS epidemic.
Read the 30 for 30 Campaign statement to PACHA below:
Follow the Update blog on Twitter @housingworks.