Once Again: Mississippi at a Crossroads in the Fight to End HIV/AIDS
By Luke Versher

March 26, 2012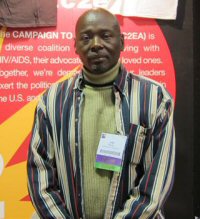 Luke Versher
Once again, Mississippi stands at a crossroads regarding how we will move forward in this fight to end HIV/AIDS in Mississippi. Currently Mississippi needs $2.5 million in matching funds so the health department can receive a full federal grant of $13.5 million for prevention, treatment and care of people living with -- and affected by (which is all of us) -- HIV/AIDS.
Once again, Mississippi ranks as THE WORST STATE IN AMERICA TO HAVE HIV. We are always at the bottom in just about every sad statistic about health, education and poverty in America. We have the highest new infection rate and the greatest percentage of people living with HIV in the country. Elsewhere in the country, HIV/AIDS has become manageable, but a Mississippian with HIV/AIDS is almost twice as likely to die as the average American. An African American in Mississippi is 10 times more likely to die than our white neighbors. However, what does one expect when the state only contribute $750,000 toward HIV/AIDS programs out of a budget of $4.9 billion?
Advertisement
Once again Mississippi has been compared to Botswana, Ethiopia and Rwanda for its stigmatizing and discriminatory polices, lack of access to care and its treatment of her citizens living with and affected by HIV/AIDS.
Once again AIDS Action in Mississippi (AAIM) is calling upon the nearly 10,000 people living with HIV/AIDS, community-based organizations, the state health department, clinics, and family, friends and loved ones of Mississippi to not let this opportunity pass to demand that our state legislature do the right/moral thing and save lives by passing this lifesaving measure. $2.5 million SAVES LIVES!
Luke Versher has been a field organizer with AIDS Action in Mississippi for more than two years. He hosts the organization's annual summit to develop strategies to combat the growing epidemic in Mississippi and the U.S. Southeast. Luke can be reached at luke.versher@aidsactionms.org.
Get email notifications every time this blog is updated.
---
| | |
| --- | --- |
| No comments have been made. | |
Add Your Comment:
(Please note: Your name and comment will be public, and may even show up in
Internet search results. Be careful when providing personal information! Before
adding your comment, please
read TheBody.com's Comment Policy
.)