AIDS Activists Arrested for Protesting Ban on Federal Funded Syringe Exchange
By Candace Y.A. Montague

March 22, 2012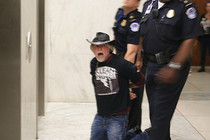 Charles King, President of Housing Works, is taken into custody for protesting at the US Capitol. Credit: Stephanie Simpson via flickr.
Nearly 30 activists were arrested while protesting the ban on federally funded syringe exchange programs yesterday. A total of 75 activists gathered at the US Capitol to participate in a chained 'sit-in' at the offices of Speaker John Boehner (R-OH), Rep. Denny Rehberg (R-MT), Mike Rogers (R-MI) and Eric Cantor (R-VA). Yesterday was the National Day of Action when many non-profit organizations asked their supporters to voice their opposition to the ban. The arrested protestors represented Housing Works, Health Gap, and Harm Reduction Coalition. They were detained for 14 hours and released just after midnight.
The ban on federal funding for syringe exchange was originally adopted in 1989 but was finally lifted in 2009 by Congress. Last December, Congress re-imposed a ban on the use of federal funding for syringe exchange programs in the Fiscal Year (FY) 2012 funding process. Research has continuously proven that needle exchange programs dramatically decrease HIV, viral hepatitis among participants. The language was added back into the spending bill by GOP Senators without opposition. Kenyon Farrow, spokesperson for Housing Works, stated in an interview that not only does needle exchange reduce HIV transmission but, in the long run, it saves the country money to fund prevention versus treatment. "We save money down the line with syringe exchange. People stay healthier through syringe exchange." Larry Bryant, arrested protestor and Director of National Advocacy and Organizing for Housing Works, says the pressure on Congress must continue. "Syringe exchange programs provide life saving, life preserving care for many people. We cannot allow more people to suffer and die needlessly."
As the International AIDS Conference date approaches, Farrow explained that more actions will occur in order to continue putting pressure on Congress to fund programs that work to end the epidemic. Yesterday's protest was just one avenue that activists used to make their voices heard. "We wanted to send a message to Congress, President Obama, and the nation that we can no longer play politics with people's lives. We need to once and for all lift the ban on federally funded needle exchange programs."
For more information on how you can get involved, click here.
Get email notifications every time this blog is updated.
---
| | |
| --- | --- |
| No comments have been made. | |
Add Your Comment:
(Please note: Your name and comment will be public, and may even show up in
Internet search results. Be careful when providing personal information! Before
adding your comment, please
read TheBody.com's Comment Policy
.)