Grass Is Greener
By Brooke Davidoff

March 23, 2012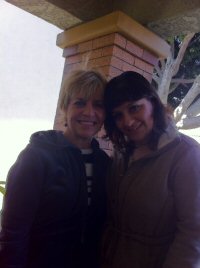 My Mommy and me.
The grass is greener on my side, finally.

I made a long-awaited return to California for a week's vacation with Myles. We saw my mom, my friends and some family members. It was nice to be there for a good reason. Last time I saw most of those people I was 6 months pregnant at my father's funeral. Here we were almost 2 years later and I was not sad to be in California. My mother has moved to a different city than where my father lived. I didn't have to go to his neighborhood, see the house I partly own and might never be inside again; we didn't drive past places I remember, or had ever been.
Maybe that made it easier.
Myles got to see the beach and walk in sand. He met my dead daddy's dog Cody. It was fabulous, relaxing and in the 60's and 70's. We re-visited warm sunlight for a few days. People in the great Northwest often forget the power of SUN.
While we were out beaching and lounging around the warm southern California sunlight my hubby began working. Having been a stay-home dad full time for the last year and a half he was thrilled when he found a good-paying kitchen job.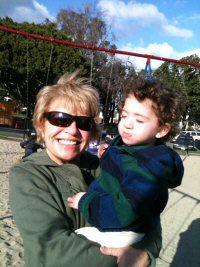 Mommy and Myles.
Myles and I came home to a brand-new schedule.
Myles goes to his grandma's (my mother-in-law's) for 3-4 days a week. Hubby and I work on the same exit of the freeway and we both work at 7am, which on carpool days has us waking up at 4:30. We leave the house by 5 to drop Myles off with grandma in a parking lot in the middle between our houses. I get dropped off at work between 6 & 6:20. I get picked up at 4 and we head back to the same parking lot to get Myles. We're home by 5:30 or 6 depending on weather and traffic.
I went to the doctor! I got my blood work done, after financially avoiding it for 9 months or so. They only needed like 7 vials, but hey who's counting?
I am back on meds. The same meds as before, and my numbers are not as bad as I thought they would be. NOT good but better than I imagined. My viral load is 90,933 and my CD4 count is 184.
I have a new doctor whose office is less than a mile from my office. I can go on a lunch break, or after work, and not waste a tank of gas getting there and back in traffic.
We finally have more money coming in than going out. I had forgotten how nice it is to have enough money. To be able to pick up your meds and NOT cringe. To go grocery shopping.
Get email notifications every time this blog is updated.
---
Add Your Comment:
(Please note: Your name and comment will be public, and may even show up in
Internet search results. Be careful when providing personal information! Before
adding your comment, please
read TheBody.com's Comment Policy
.)