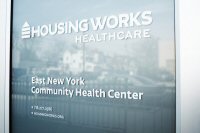 Entrance to the East New York Community Health Center (photo courtesy of Jim Lafferty).
In a community suffering from the dual crises of homelessness and HIV, Housing Works is proud to celebrate the grand re-opening of the East New York Community Health Center with a ribbon-cutting ceremony and tour of the facility on April 4th at 10 a.m. The center has been renovated to serve the medical needs of all East New Yorkers, regardless of HIV status.
Located at 2640 Pitkin Avenue, Housing Works' ENY Community Health Center has been operational since 1998 as a freestanding health and housing facility in the East New York section of Brooklyn. In August 2011, Housing Works was one of six NYC health centers awarded a Human Resource & Service Administration (HRSA) grant as a New Access Point to provide comprehensive primary care services to the general community, specifically targeting the homeless community.
Advertisement
East New York has the highest rate of home foreclosures in the city (16.8 per 1,000 homes were foreclosed in 2010), and has a 30% higher HIV diagnosis rate than NYC overall. In order to confront this problem, The East New York Community Health Center will not only serve people with HIV, but will provide comprehensive medical, and mental health services to at risk individuals, regardless of HIV status, at our East New York facility.
"We should not have to wait until someone has HIV before we can provide them vital health care services," said Charles King, CEO of Housing Works, Inc. "While we remain committed to serving people with HIV, we're excited to work with the East New York community to end homelessness, and to end AIDS."
The East New York Community Health Center will continue Housing Works' commitment to a patient-centered, integrated health care model. The center will provide high-quality primary medical services that include prevention services, acute care, pediatric care, chronic disease treatment, care coordination and follow-up care. Full-service dental care will be provided via referral to Housing Works Downtown Brooklyn Health Center. Mental health and substance use treatment services will include counseling and treatment, outpatient substance use services, in-house acupuncture and buprenorphine opioid treatment as well as referrals to residential programs. Patients will have access to transportation services to facilitate referrals and attendance at health care appointments. Ancillary services include nutrition counseling, translation services, and health education.
"Housing Works has been providing services to people with HIV in East New York for 14 years, and we are looking forward to extending our hand to even more people in the community," said Marylyn Martin-Naar, MD, Senior Vice President for Health Services and Chief Medical Officer with Housing Works.
The center has recently completed renovations by expanding from three examination rooms to five rooms. At full operating capacity, the expansion will support 2,600 new medical patients, 80% who will be homeless, in 10,552 medical visits annually.
General operating hours will be from Monday through Friday 9am – 5pm and with plans to include evening and weekend hours. Clients will not be turned away based on their immigration status, insurance status, or their ability to pay. East New York Community Health Center accepts Medicaid, Medicare and most insurance and offers a reduced sliding fee schedule based on a person's income and family size.
To see more photos of the facility, visit our online virtual tour.
Follow the Update blog on Twitter @housingworks.