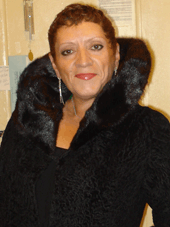 Lillibeth Gonzalez
If you haven't had many opportunities to attend HIV-related conferences, you might wonder just what happens at these gatherings. Four women in our community wrote about their experiences at various conferences over the past year, and shared some of the information they gathered. This is one of those accounts.
In September 2011 the Latino Commission on AIDS held its third annual Latina Leadership Institute. Community member Lillibeth Gonzalez was in attendance, and shares her thoughts on the importance of Latina leaders in the fields of HIV/AIDS and sexual health.
Why are all the pieces of information shared at this conference important for Latinas to know?
It is imperative for Latinas to gain knowledge on information regarding HIV, HPV, Chlamydia, Gonorrhea, and Cervical Cancer. Latinas are five times more likely to have HIV/AIDS than non-Hispanic white women. HIV and other sexually transmitted infections (STIs) are most commonly spread in the Latina community through unprotected sex with an HIV-positive partner. Persons who are infected with STIs are more likely to acquire an HIV infection. The rates of STIs are high among Latinas as there is often a lack of awareness about HIV and STI infections.
Advertisement
The Latina community needs to get informed on the importance of getting medical exams. Latinas do not often have access to medical services due to the present health care system. Therefore the rate of infection is often underreported and underestimated. The struggles associated with lack of health care include unemployment, immigration status, inadequate health insurance, limited access to quality health care, and a lack of formal education.
In addition, many Latinas do not candidly discuss sex, sexuality, or seek HIV testing due to fear of rejection, stigma, and the embarrassment of their partner's rejection. It is clear that these women, their families and communities are at a tremendous risk since this kind of information is not tailored for them due to cultural barriers, religion, and stereotyping. There is a need to build more bridges to care in the Latina communities so that women can get educated and educate others about HIV. This also means increasing the amount of educational literature in Spanish.
What's the connection between health and prevention information and women's leadership? Were the women gathered all health leaders, like you, or did they do other kinds of work?
The 3rd Latina Leadership Institute's goal was to foster leadership among Latina women. If women are being affected by this epidemic, who better to speak about these issues than the women themselves? Latina leadership means bringing the Latina community together so they can strengthen the message on HIV prevention, empower themselves with information to deliver to their communities, get involved to help prevent HIV or provide services to those in need. There were health leaders, as well as women affected by and infected with HIV. There was even a photo montage of Hispanics/Latinas. Overall, it was a great and inspiring experience.
Lillibeth Gonzalez works as a peer health educator at Gay Men's Health Crisis, Inc. (GMHC), one of the world's first and largest providers of HIV/AIDS prevention, care and advocacy.
Copyright © 2012 Remedy Health Media, LLC. All rights reserved.