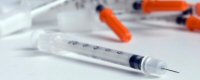 AIDS and harm reduction advocates are planning a National Day of Action on Wednesday, March 21, 2012 to force Congress to end the ban on syringe exchange for once and for all.
From Harm Reduction Coalition: "No more federal dollars for syringe exchange: that was the message from Congress less than 3 months ago. The funding ban is back, and the timing couldn't be worse -- with tight state budgets, and signs that many painkiller users are injecting or switching to heroin, our syringe exchange programs need more support than ever. The Harm Reduction Coalition and our allies are pulling out all the stops ... this time to demand that Congress and the federal government set politics aside, and we need your help."
You can keep up with the events for the National Day of Action on HRC's Facebook page. Housing Works is also going to be participating in the National Day of Action, so stay tuned to The AIDS Issues Update for details.
One of the problems with advocacy for "ending the federal ban on syringe exchange" is the messaging. It's hard to say, and it's far from sexy. AIDS United is holding a messaging contest, to help us come up with an acronym for the syringe exchange campaign. Visit the AIDS United Blog to learn more.
Follow the Update blog on Twitter @housingworks.

This article was provided by
Housing Works
. It is a part of the publication
Housing Works AIDS Issues Update
. Visit
Housing Works' website
to find out more about their activities, publications and services.
(Please note: Your name and comment will be public, and may even show up in
Internet search results. Be careful when providing personal information! Before
adding your comment, please
read TheBody.com's Comment Policy
.)