Dr. Grant Colfax Appointed as New Director of ONAP
By Candace Y.A. Montague

March 15, 2012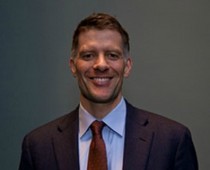 Dr. Grant Colfax takes the helm at ONAP. Credit: www.aids.gov.
The White House announced yesterday that Dr. Grant Colfax, a San Francisco based research scientist, will be the new director of the Office Of National AIDS Policy (ONAP). Dr. Colfax has 20 years of experience in HIV/AIDS care and research including developing interventions that reduce new infections among substance abuse populations. He will replace Jeff Crowley who resigned in last November.
Colfax graduated from Harvard Medical School and completed his residency at the University of California, San Francisco. He was the director of HIV Prevention and Research with the Health Department in San Francisco. His clinical training was done in HIV patient care at San Francisco General Hospital's Ward 5A, the first inpatient HIV program in the country. He has been an integral part of San Francisco's effort to lower the HIV infection rate. Congresswoman Barbara Lee (D-CA) is pleased with the selection of Dr. Colfax. "I look forward to working with Dr. Grant Colfax to implement the National HIV/AIDS Strategy. I am hopeful that further progress can be made in reducing the number of new HIV infections across the United States and improving health outcomes for those living with HIV and AIDS."
Colfax will inherit a heavy load in his new role. DC will host the International AIDS Conference in July. The Affordable Care Act is moving into full implementation, in spite of court battles. And efforts nowadays are focused on ending the epidemic instead of just treating symptoms with expensive pharmaceuticals (ahem..Gilead).
In this Examiner's opinion, it would have been good to see a female or person of color (or both) become head ONAP. I'm dreaming of witnessing a person who is openly HIV positive at the helm one day. This is not a criticism of the selection by any means. However, seeing another white male lead the fight against such a "colorful" epidemic can be a tad disheartening. As much as I hate to break things down by gender and race, the numbers cannot be overlooked. HIV has disproportionately affected minority populations for years and women continue to be ignored. I'm not taking away from Dr. Colfax's qualifications and I'm sure he will do a great job. But I think that seeing a leader who is from one of the minority populations (Black, Hispanic, female, LGBT) would have been an excellent sign of true progress. Good luck to Dr. Colfax in his new position.

Recommended reading:
Jeff Crowley Set to Leave ONAP
Get email notifications every time this blog is updated.