The Testimony of Hazel Smith: An HIV-Positive Woman
By Candace Y.A. Montague

March 8, 2012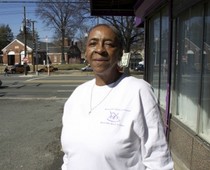 Hazel Smith. Sharing her story. Saving lives everyday.
National Women and Girls HIV/AIDS Awareness Day was Saturday, March 10th. Instead of providing lots of statistics and dropping names of educational programs, which is always helpful, I've decided to provide a profile of HIV/AIDS from the perspective of a woman who is actually living with the virus. It doesn't get anymore "aware" than that.
Hazel Smith is a 64-year-old Washington, D.C. native who found out she was HIV positive in 2001. Hazel shared her story in hopes that it will deter women, girls and even men from duplicating the same imprudent behavior that once cost her everything. From ruin to redemption, Hazel has proven to be victorious in the face of a very formidable opponent.
Here's her testimony.
"Anything you can think of doing that's bad I've already done. I've gotten drunk. I went to jail. I stole. I prostituted. I've been in the alleys. I did a lot of damage out here. A whole bunch of damage."
Hazel Smith was an everyday Black girl born into a middle class Pentecostal family in Northeast D.C. The eldest of three kids, she had two assignments in her childhood: Going to school and going to church. Church activities occupied almost every weeknight and all weekend long. Young Hazel wanted something different. "I felt like my family was dysfunctional. The kids down the street had mothers that were on welfare. Or they were from a single family home. If they had both their parents in the home, then the parents were drunks. The kids could stay out all night long and drink beers. That's how I wanted to be. I didn't wanna be in my kind of family. Everybody else was going to parties on Saturday night at St. Stephens. I wanted to go out but we always had church." At 17 years old, Hazel decided that she was "churched out" and left home without a trace.
Hazel fell into the wrong crowd and became addicted to crack cocaine and alcohol. She stayed in the streets for years until one fateful day in 2001 when she was fed up with the drug addict's life. She tried to commit suicide. In the psychiatric ward of George Washington University Hospital, she was tested for HIV. After her release, Hazel received a phone call from the hospital informing her that she was HIV positive. "I went into a state of depression. I isolated myself for a while. I felt like eveybody knew I was positive. When I got on the bus I thought 'oh God. Everybody knows.' If you looked at me for too long I thought 'oh God. You know I'm positive'. Then I was in denial. So I kept on having unprotected sex and kept on using drugs. I knew I was positive. I just couldn't deal with it."
Advertisement
"We Just Want You to Live Today"
The drug life wore her down and within the same year she returned to George Washington University's psychiatric ward. Once again, they informed her that she was positive and gave her medication. This time, Hazel requested to be placed in a drug treatment program. There was one program called Bridge Back that was offered through the Whitman-Walker Clinic (now Whitman-Walker Health). Hazel went in for treatment hoping this would be all she would need to kick her drug habit, which nearly cost her life. "I didn't want to go back home because I knew I would use again. So I got into Bridge Back and they kept me for six months. I had to do 60 meetings in 60 days."
While working to reach her goal in Bridge Back, Hazel also participated HIV support groups at The Austin Center where she learned more about the virus. She met a woman who frequented The Women's Collective, a non-profit AIDS organization in Northwest created exclusively for women. Out of curiosity Hazel tagged along with her associate to the Collective and found something she had never experienced before. "When I first went in, they were hugging me and showing me love. I thought they wanted something from me. I wasn't used to that kind of love and attention. They treated me like I was somebody special. Here I was a recovering alcoholic and drug addict with HIV and they love me like that. Why? Pat [Nalls, founder of the Women's Collective] told me 'we just want you to live today.'"
After two and a half years, Hazel graduated from her Alcoholics Anonymous and Narcotics Anonymous meetings. She had accumulated material things, repaired her marriage with her husband John and her relationship with her parents, and was ready to try living in the real world again. Her mistake, however, was thinking that she was done with recovery altogether. "I figured I made it. I got everything back. I figured I had accomplished some things. But one thing I forgot is that you never graduate from recovery. You're always recovering." Severing ties with recovery so soon after graduation quickly proved to be a mistake. Hazel lost her mother in 2003. The grief sent her into a relapse. She was using again. She was on the street again. She was spreading the virus again.
In part two, Hazel shares how one more bout with drug addiction sent her away from D.C. and brought her back renewed.
Click here to read part two.
Get email notifications every time this blog is updated.
---
Comment by: salim m.
(eldoret/kenya) Mon., Mar. 19, 2012 at 5:43 am UTC
all this are very encoraging
Add Your Comment:
(Please note: Your name and comment will be public, and may even show up in
Internet search results. Be careful when providing personal information! Before
adding your comment, please
read TheBody.com's Comment Policy
.)