The Testimony of Hazel Smith: An HIV-Positive Woman, Part Two
By Candace Y.A. Montague

March 8, 2012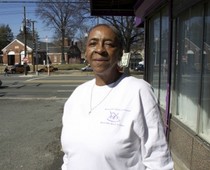 Hazel Smith. Sharing her story. Saving lives everyday.
Hazel Smith is an HIV positive woman who is the quintessential survivor. She went through hell, hurt people who loved her along the way yet somehow made it back. In the past, she may have been viewed as a villain or maybe even a victim of society. She is the victor now. This is not a story about shame and blame. It's an honest conversation about how ending the AIDS epidemic takes more than condoms, billboards and awareness days. It's going to take conquering social ills, economic woes, and policy struggles as well.
Here's part two of her testimony.
Hazel was back on the street again. She lost her mother whom she loved dearly. Her father's health was waning. And she learned that her husband John was also HIV positive and refused to take his medication, a form of denial. Her case manager called many times but Hazel refused to answer. Instead she stayed out on the streets; avoiding her family and the emotional damage that she caused from years of substance abuse.
Hazel's husband was one of the anchors in her life. No matter how long she stayed away from home, he let her back in when she returned every time. But drug addiction can be more powerful than love. It can force people to a tipping point. In her desperation, Hazel took advantage of her husband while his health was failing and of his mother. She cleaned out both of their bank accounts to support her crack habit. John eventually died from complications due to AIDS in 2004. Hazel was forbidden to come to the funeral. "His family told me I better not come to the funeral. They threatened me." The regret was apparent as she recounted those memories. She remained on the streets of D.C. for more than a year.
The Mountains
On September 2, 2005, fatigue had finally settled in. Hazel gave up trying to maintain her drug habit. She just couldn't run any longer. She walked four miles from the Kentucky Court Apartments in Southeast to D.C. General Hospital. When she talked with the intake specialist she told him she was tired of taking drugs. As a part of the intake process, the specialist asked her if she had any illnesses. The stigma of AIDS made her say "no." She was taken into their rehab program. "It was supposed to be a 5-7 day program. I stayed for 22 days. I didn't wanna go. I was scared that I was going to use. They referred me to this facility on North Capitol Street. I didn't want to go there 'cause it was in the heart of the drug district so I went to S.O.M.E. I told them I wanted to go into their treatment facility." After a few group therapy sessions on drugs and HIV, Hazel was sent to the Maya Angelou House for Women in High View, West Virginia.
During her 90 day stay in the mountains, Hazel was able to take classes and engage in more intense group therapy. When she left, she had a plan to keep herself out of trouble. The plan was to pray, take her medication, attend 7 am meetings, and take care of her ailing father. She planned to do this from transitional housing. After speaking with her brother about her father, Hazel's plan had to alter slightly. She would have to live with him to avoid sending him to a nursing facility. "I was scared to death."
Advertisement
Hazel. Reformed.
Upon settling in to the District once more, Hazel returned to The Women's Collective seeking a caseworker. She found one whom she described as a big sister. "We would go to the movies. We would hang out. It would be a group of us. And I felt ok with going out in public becausewe were in a group. She taught me some things." Hazel was finally beginning to feel at ease thanks to the love she received at the collective. "I just wanted to give back because they gave me so much. They didn't care how I looked or nothing. They just loved me." Her friend Myra encouraged her to apply for a job there. She was hesitant but decided to give it a go. A few weeks later, Hazel was hired at The Women's Collective as an HIV Outreach Specialist, a job she wasn't sure she could do at first. "I was telling my friend that I can't do outreach. I couldn't talk to people. He said "look, when you were out on the street remember how the dope man told you that if you brought him some customers you would get a free bag of dope?' I said yeah. He said "just act like you going out and you're gonna bring back five people and you're going to get a free bag of dope.' I said ok. I learned then how to talk to people." Hazel did outreach on the van for TWC and worked for Prevention Works, which closed last February. Hazel was back on the street again. But this time it was to save people from drugs and the virus instead of introducing it to them.
Today, Hazel continues to work for The Women's Collective. She also does speaking engagements. In addition, she takes care of her 90-year-old father who suffers from dementia. Hazel is happy to be there for him but sometimes feels like God is punishing her. "Sometimes I sit in my room and I cry. I keep thinking this is my punishment for all those years I was out on the street and they couldn't find me. All the times I made them worry. It feels like God is getting back at me for that. It's like He's saying now it's your turn to worry." Nevertheless, she still stresses that she is ok with where she is now. "My whole life right now is this and my dad. I'm fine with that. Life is good."
From a Woman to Girls: Hazel's Raw Advice to Young Women
"Be you. You don't have to be Sally, Sue, and Jane. Set your own goals. Find something that's dear to your heart and do that. Get all the education you can. When it comes to boys, they want something. They always want something. And I know you're gonna have sex but use a condom. Protect yourself. I know he says he loves you but you need to love you more than he loves you. Get your education. Do something with your life. Give back."
To read part one of Hazel's testimony, click here.
Get email notifications every time this blog is updated.
---
| | |
| --- | --- |
| No comments have been made. | |
Add Your Comment:
(Please note: Your name and comment will be public, and may even show up in
Internet search results. Be careful when providing personal information! Before
adding your comment, please
read TheBody.com's Comment Policy
.)