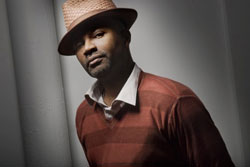 Nelson George (Credit: ESPN Films)
It was the disclosure heard around the world: On Nov. 7, 1991, basketball great Earvin "Magic" Johnson announced that he is HIV positive. To commemorate the 20th anniversary of the disclosure and its incredible impact, ESPN Films teamed up with NBA Entertainment to make The Announcement, a documentary narrated by Johnson himself that debuted on March 11 to stellar reviews.
The emotional 90-minute peek inside this incredible and terrifying moment in Johnson's life also includes the people who know him the best: his wife Cookie, son Andre, former coach Pat Riley, and friends Larry Bird and Arsenio Hall.
Recently, TheBody.com sat down with the film's director, Nelson George (HBO's Life Support), to talk about how HIV/AIDS has impacted his personal life and what he hopes people will take away from The Announcement.
Do you remember where you were when Magic disclosed his HIV status?
The day of Magic's press conference I was at the offices of the alternative weekly the Village Voice, where I was a columnist. It was held in the afternoon New York time, so I was one of many assigned to write a piece on the impact. I was a Knicks season ticket holder, so that night I went to Madison Square Garden to see the Knicks versus the Orlando Magic. Until I started working on this doc I had no idea who won the game (turns out NY blew them out). What I do remember is [Knicks] coach Pat Riley speaking to the fans before the game and leading both teams in prayer.
How did you get involved with The Announcement? And what was the experience like?
Keith Clinkscales, who was the VP at ESPN and a friend, reached out to me just before Labor Day and said Magic had agreed to do the doc and would make his wife Cookie, his son Andre and others close to him available. He saw the film as an opportunity to shine a light on HIV -- a problem that has fallen out of national media and political discussion.
For most of the folks we interviewed it was a very emotional journey, a trip down a very trying memory lane. Chris Rock is a good friend and one of the smartest people I know. He was also at the Garden at the Knicks game the night of the announcement so I wanted him in it. Cookie Johnson was probably the most interesting interview because she has done few on camera interviews about that time, and she was very honest and poised.
How has HIV/AIDS impacted your own personal life?
My sister Andrea Williams found out she was HIV positive in 1993, two years after Magic, which was a profound moment for our family. But, like Magic, Andrea had a strong will and was fortunate to be around when the AIDS cocktails were developed, which gave a new lease on life to Magic, Andrea and millions of others. In 2007 I directed Life Support, a film for HBO based on my sister's life that starred Queen Latifah. So my personal and creative lives are now profoundly tied to HIV. I'm proud to have worked on two high profile projects that have given a human face to this struggle.
What message do you hope viewers take away from this film?
Fifty to sixty thousand Americans a year become HIV positive. In the black community, depending on the neighborhood, the infection rate can be as high as 6 percent of the population. Hopefully the film calls attention to HIV's ongoing danger and serves as an education tool for a new generation.
View the trailer:

Did you miss the film's debut? To learn when it will be airing again, go to the ESPN Films website.
Kellee Terrell is the former news editor for TheBody.com and TheBodyPRO.com.
Follow Kellee on Twitter: @kelleent.
Copyright © 2012 Remedy Health Media, LLC. All rights reserved.