A Leper Colony by Any Other Name
By Rev. Andrena Ingram

March 5, 2012
"Oh no ... a social-leper colony."
Did you know, that when the AIDS epidemic hit in the '80s, there was a proposal to isolate all persons with AIDS? I first heard this last year. The proposal came from none other than Mike Huckabee, who wanted an AIDS "quarantine," and what's more, wanted to separate the homosexuals, who in his mind posed a dangerous health risk. This is what was written about him in the Huffington Post:
As a candidate for a U.S. Senate seat in 1992, Huckabee answered 229 questions submitted to him by The Associated Press. Besides a quarantine, Huckabee suggested that Hollywood celebrities fund AIDS research from their own pockets, rather than federal health agencies.

Huckabee said Saturday that his comments came at a time when "the AIDS crisis was just that -- a crisis. We didn't know exactly all the details of how extensive it was going to be. There was just a real panic in this country. If I were making those same comments today, I might make them a little differently."

In 1992, Huckabee wrote, "If the federal government is truly serious about doing something with the AIDS virus, we need to take steps that would isolate the carriers of this plague."
Wow! Can you imagine? I can't imagine the uproar that must have caused. Then again, looking at all the newspaper articles surrounding it, I can imagine. Which brings me to the real reason of this post.
Two Sundays ago, was "Conversation Sunday" in my congregation. It is the second Sunday of each month, (in case you'd like to pop in and partake). The lessons are read, and then I open up the floor for discussion, which leads to all kind of sharing of people's faith walk and ideas. The gospel reading that Sunday was Mark 1:40-45. The story about Jesus healing a leper.
Advertisement
As I opened up the conversation, we were talking about what leprosy is, and how they were outcasts and considered unclean. I also made the connection between leprosy back then, and how people in today's times treated people with HIV and AIDS. I also mentioned the fact that at one time, there was talk of isolating us, into some kind of colony. I am surprised that the visitor in the congregation didn't catch on to the word "us." Because he spoke out loud: "and they still should."
I felt all the eyes of the congregation on me, waiting for my comeback.
I remember saying: "What? You think that people with HIV and AIDS should still be isolated and put away?" And he responded: "Yes!" Whoa! I couldn't believe my ears, but I wouldn't let on that he upset me. Someone from the congregation began to contest him ... and I said: "No, he is entitled to his opinion, and this is why it is so important that we still need to educate people" ... and the discussion took a different turn.
I really was amazed to hear that come from him. Had no idea that people still felt that way, in 2012! Stigma is alive and well, people. And we have to educate. Gently.
As the discussion continued, inside my head, I was calculating how to "connect" with this brother.
Service continued with the Creed and prayers and as we began to share the peace, brotherman got up, and put on his coat, shook hands with folks and made his way to me. As we "shook hands," he said: "I'll be back next week!" I said "You sure? You sure you want to come back?" He said "Yes!" I said: "Okay, because I have HIV." BINGO! He said, "that's okay, you don't hurt me none."
As I walked him to the door, I stopped him at our bulletin board, on which is posted: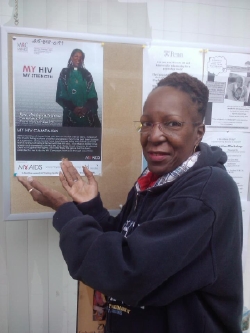 My HIV -- My Strength

He looked at it, and read the bottom of it which states:
I am a member of clergy living with the HIV virus for over 22 years. Instead of the church being a place of safety and grace, it has "in the past" been a place of judgement. Many people have lived and are living with shame, guilt and fear as a result of being infected with the HIV virus. As a religious leader living openly and shamelessly with the HIV virus, I hope to put a face to this disease, speak out against the stigma and offer freely the grace that has been extended to me from God, through Jesus Christ.
He then shared with me that he was in a homeless shelter, and that one of the men there has AIDS and has to take a lot of pills. He wanted to know if I took a lot of pills and I said yes, to keep me alive. And you know what he did?
He hugged me.
I didn't take his hug as one that was filled with pity, but rather, a hug -- acknowledging each other's humanity.
"When you know better, you do better."
Get email notifications every time this blog is updated.
---
| | |
| --- | --- |
| No comments have been made. | |
Add Your Comment:
(Please note: Your name and comment will be public, and may even show up in
Internet search results. Be careful when providing personal information! Before
adding your comment, please
read TheBody.com's Comment Policy
.)