Dr. Susan Little Creates a New Prevention Model
Those living in the 92103 and 92104 ZIP codes in San Diego have the opportunity to participate in a unique campaign to reduce the spread of HIV. "Lead the Way" is an innovative model of HIV prevention, created by Dr. Susan Little in San Diego, and seems to provide an example for other communities to follow.
The strategy behind the campaign is to focus on testing all adults, not just those at high risk for contracting HIV. Those living within the zip codes mentioned are asked, "Would you or wouldn't you take an HIV test?" Those who answer yes are offered a complimentary finger prick test on the spot and those who answer no are asked to complete a brief survey.
Since the April launch of Lead the Way, an average of 350 individuals have been screened per month and 14 have been identified as HIV-positive. This proves that the strategy of engaging the general population, rather than just high-risk groups, will successfully identify those with unknown HIV infection.
In addition to the novel strategy, one of the most interesting aspects of the campaign is the location of the tests. A team of nurses will be going door-to-door offering the test in the privacy of one's home. An off-site testing center is also available and the team will travel to events throughout the year from farmers' markets to community fairs. The Lead the Way campaign is also employing the assistance of 16 role models who either live or work in the 92103 and 92104 ZIP codes to help spread the word. These role models include restaurant and bar owners, local reporters, athletic trainers, community activists, a priest, and other prominent community figures.
The ultimate goal of the project is to show that the spread of HIV can be reduced now, even without a vaccine, through appropriate testing and treatment for those found to be HIV-positive.
Dr. Little spoke to PA about the project, her hopes and goals, and plans for the future.
SMS: What was your main goal in designing the project -- prevention or treatment?
SL: Prevention. If we had more funding, I'd say both prevention and treatment, but this is really a pilot project with limited funding. Our major goal was prevention, the notion being that if you can help people become aware of their HIV status, there's data to show that simply knowing you're HIV-positive reduces risk in the majority of people.
Advertisement
SMS: What was your inspiration in coming up with this idea?
SL: There's a big focus on the CDC data that says about 21% of the people infected with HIV in the United States don't know it. The problem with that number is that all the HIV screening campaigns focus on high-risk populations -- men who have sex with men or drug abusers -- we frankly always focus more on high-risk, targeted populations. And the fact is that of those 21%, we don't know if they're among high-risk populations or low-risk populations. The only way to find out, to ultimately lower the risk of HIV, is to make everyone aware of their status and to break down some barriers, to say, "This is not a disease that's restricted to certain high-risk groups."
Part of the public health guidelines now is that every adult over the age of 13 should be tested, and most adults don't know that. Many people still tend to think of this as a disease that affects high-risk individuals and everyone has their own idea of what "high-risk" means. Our goal is to try and say, "Everyone is at risk to a lesser or greater degree, but the most important thing is to know your status."
SMS: Of those who decline the test, how many of them are willing to take the survey?
SL: Believe it or not, I can't answer that yet, because we haven't put together the denominator. It's going to be a little bit challenging because when people come to us [at the storefront testing facility], the number is one. But when we approach a household [at their home], a lot of times there are multiple people in a household, but we're not doing a head count. We're typically counting one adult per household, the person that answers the door, once we get an adult, so what we're going to do is represent that in the data. What I can tell you is that the vast majority of people who we approach refuse the test. And of those who refuse to take the test, a very significant portion, more than 50%, also refuse to take the survey. It's the exact opposite statistic for those who approach us. Ninety-six percent of people who approach us agree to test and take the survey.
SMS: Do you have any theories as to why there's so much refusal?
SL: Well, I think the people -- and it gets back to the question of why did we pick these two ZIP codes -- the people who are coming to us are probably more highly engaged, whether they believe themselves to be at risk or are simply more aware and wanting to set an example for others that they know, they're probably more engaged in HIV awareness and how to do something about prevention. Whereas when we approach people in their homes, my guess is that those are perhaps the less aware and I also think that there's no way around the fact that even the most aware person is going to have some barrier towards some stranger coming to their door. We're approaching people in the privacy of their own homes, which is, I'm sure, quite a bit off-putting to some people. And then the second question is that the people who have not come in to test have not come in for a reason. What we're trying to figure out is what are those reasons.
SMS: I find it really fascinating -- the fact that you have people going door-to-door. I know one of the problems we've run into here in Chicago is that, especially in those high-risk neighborhoods, people don't want to be seen going into "that" clinic, so I thought that the door-to-door thing would be a really good way to get around that, but evidently there are drawbacks to that too.
SL: Yeah, I think there's no easy solution. One of the ways we got around the "that clinic" thing was we opened what we call a storefront -- it doesn't resemble a clinic. It's an old Starbucks, it looks like a coffee house and it's very much set up to resemble just that, a sort of relaxing cafá environment. There are sofas, big flat screen TVs, music playing, coffee, computers, sort of a wi-fi spot where people can go and, we hope, feel comfortable, but you don't walk in and get that sort of sterile feeling of being in a medical clinic. We did that intentionally because our research organization is known as an HIV research unit and we didn't think people who've never been tested before would love to just walk up to the door and say, "I'm here."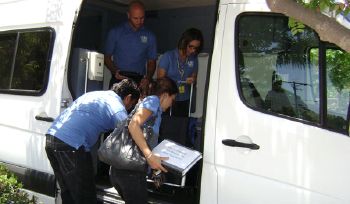 Lead the Way's Mobile Testing Unit takes testers door-to-door.
SMS: Right. So when you do administer the survey, what kind of information do you get from it?
SL: We're intentionally asking for only a small bit of information because the goal is to make this fast. We ask for basic demographics -- age, race, gender, how long have you lived here, because we're trying to figure out how mobile our population is, and then the big ticket items are motivations and barriers. What's your biggest motivation to test? We have a long list that people can choose from and we ask them to pick the most important one. And then, what are your biggest barriers for not getting tested? Same thing -- long list and pick the most important. Then we ask them about their previous testing history -- have you ever been tested for HIV before, when, etc.? One of the features of this is that we're actually trying to identify people who are HIV-infected and it sounds a little bit odd, but in addition to doing the public awareness campaign of "Know your sero-status," we're also trying to measure the prevalence of HIV in our community in a controlled fashion, where we know the denominator. If we know there are 10 people with HIV infection that come to the storefront, we don't know 10 out of how many? But if we're doing representative sampling, we know that it's 10 out of the 472 that the census tells us live in this area. So we're trying to get people who already know their status to come in and do the same thing. We do a quick test to confirm their status and then we ask them the same questions and we do a little bit more in-depth about risk behavior in people who find out they're positive or who already know. That's a big part of it -- to try and define the prevalence of HIV at a population basis, even if it is only a segment of our population.
SMS: Do you consider the two ZIP codes you're working with to be high-risk areas?
SL: There's no doubt that they are. The largest number of HIV/AIDS cases a year that are identified in San Diego do come from this region. There are a couple of other, what I would call, hot spots in San Diego, but the biggest reason that we chose this area was that we felt that if we were going to do a door-to-door campaign, we needed a community that was fairly HIV-aware and engaged. If we launched this campaign in a community that was not very aware or engaged we thought that we would not get a single door to open, so we're trying to launch this in a community where you can't walk down the street without seeing some advertisement about HIV prevention and awareness. With that, we thought this whole idea of going door-to-door wouldn't be quite as negatively received as it might be in other areas.
SMS: It would be interesting to do it in an affluent, white neighborhood and see what happens.
SL: One of the nice features of this is that these two zip codes are incredibly variable. There is a very affluent area in one of the zip codes and then there are very low socio-economic areas scattered throughout, so we really have a very nice diversity of race, ethnicity, socio-economic status, and HIV risk behavior. We are intentionally not asking about risk, though. We view this as a non-risk-based test, so we don't ask people. We tell them regardless of what your status is or your behavior is, we simply want people to be aware.