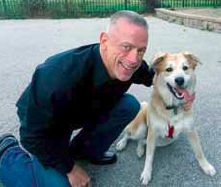 6:15 p.m., Chicago: On "A Day With HIV," PA's editor was photographed with his dog, Kylie, by partner Stephen Osgood.
Welcome to the Windy City! This year's United States Conference on AIDS (USCA), sponsored by the National Minority AIDS Council (NMAC), is being held here in Chicago, for the first time in its fifteen-year history. For those of us in Chicago, in Illinois, and throughout the Midwest, it's been a long time coming.
But it also could not be a more important time for what's being billed as the "largest annual AIDS-related gathering in the country." It takes place right here in the home town of President Barack Obama, whose administration helped to craft and release the country's first National HIV/AIDS Strategy just a little over a year ago -- and it leads the way for the World AIDS Conference being held in Washington, D.C. in 2012.
The theme of this year's USCA is "Make Change Real: Unite. Speak. Act." It speaks to the power of advocacy, and how we all play a role in creating change at the local, state, and federal level, in our communities, at work, and with families and friends. Each year the conference selects a target population upon which to focus their message and programming -- last year in Orlando it was youth and HIV, this year it's gay and bisexual men.
As a gay man living with HIV for over 20 years, it's somewhat validating to be recognized as the group most affected by the HIV/AIDS epidemic in this country, but it's certainly no badge of honor. In some ways, growing up gay in the '60s and '70s was more challenging than dealing with my HIV. But having worked in the HIV arena for 19 years, I constantly struggle with the fact that there are 56,000 new infections in the U.S. each year, the majority of which occur among gay men. While the group most affected is young African American gay men, where the infection rate rose to an alarming 43% in 2009, black women are 15 times more likely to acquire HIV than white women. I have to ask myself, what is it we're doing wrong? Why is this still happening? Are we failing yet another generation?
There is much cause for hope, however, with gatherings such as this one in Chicago, where those who are doing the work come together to share, learn, and network with one another, to learn from each others' failures, and build upon one another's successes. I have no doubt that we will come away from this conference with a renewed sense of hope and strength, recharged, and with new ideas to take back to our communities and organizations to put into place and create change.
Advertisement
Unfortunately, as each year passes, it appears as though my battery's charge doesn't last quite as long as the preceding one. Soon it will be time for a new generation to develop the strategies, to sound the horn, to wave the banner, and to lead the charge -- that is, if we've faithfully carried out our mission and done our job to mentor and educate those who will come after us. If we do that much, then passing the torch should be a breeze.
Hopefully, we will one day get to a place where the horn will be silenced, the banner laid down to rest, and the battle will be over. Renewed interest and advances in the search for a cure, innovative prevention methods, new drug development, and vaccine research is encouraging and gives us hope. But none of them will mean diddly-squat if we don't have the wherewithal and the means to implement these advances, to identify those who need them most, and to develop strategies to get individuals into care, and keep them in care.
One way to reduce the barriers to care and shore up retention is to break down the stigma surrounding HIV, and that's exactly what A Day with HIV in America seeks to do. In this, the second annual photo essay, you will see images of everyday people living with and affected by HIV, who came together on one, single day to share their stories. Gay, straight. Negative, positive. All shapes, colors, genders, and sizes -- speaking with one voice. Making change real. You can too, by stopping by the Positively Aware booth at USCA. Or visit us online at positivelyaware.com and adaywithhivinamerica.com. And go to our Facebook page and follow us on Twitter.
Share your stories about life with HIV, and start to tear away at the stigma, and create a better world for those who follow, because we are all living with HIV.