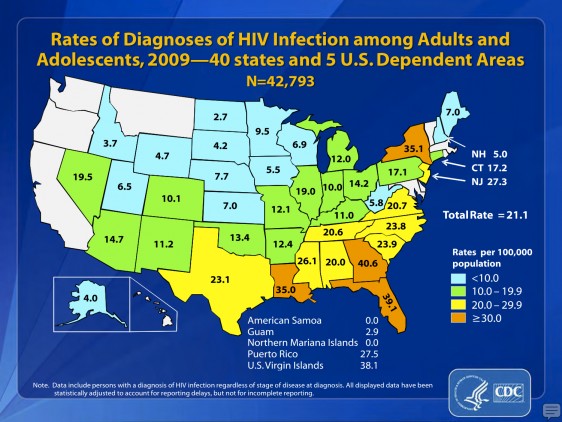 CDC Data showing HIV diagnoses in 2009 Across the U.S.
Just days before the South Carolina Republican Primary (and weeks after Republican Presidential candidates threw people with HIV under the bus), the Southern HIV/AIDS Strategy Initiative released a report on the AIDS epidemic in the Southern States.
8 out of 10 states with the highest rates of new HIV infections are in the targeted Southern states.
35% of new HIV infections were in the targeted states, which contain only 22% of the U.S. population.
Six of the 10 states with the highest HIV prevalence rates are targeted Southern states.
The Southern states account for 8 of the 10 states with the highest HIV death rates (deaths per 100,000 population). All nine targeted Southern states are among the 15 states with the highest death rates.
The also found that many of the contributing factors to the spread of HIV in the southern states include poor health outcomes in other areas, racism, homophobia, sexism, poverty, stigma/cultural conservatism, and lack of access to healthcare in rural areas.
Housing Works has been working in Mississippi since 2005, when the former Governor Haley Barbour signed a bill that limited Medicaid recipients to only being covered for 5 prescriptions. From that initial advocacy, AIDS Action In Mississippi was born.
Read the report:
Southern AIDS Research Report Final

This article was provided by
Housing Works
. It is a part of the publication
Housing Works AIDS Issues Update
. Visit
Housing Works' website
to find out more about their activities, publications and services.
(Please note: Your name and comment will be public, and may even show up in
Internet search results. Be careful when providing personal information! Before
adding your comment, please
read TheBody.com's Comment Policy
.)