This Is My Body, Given for You
By Rev. Andrena Ingram

February 5, 2012
"This is my body, given for you"? Condoms? ...
What do condoms have to do with the words of institution we hear each Sunday (or whenever the pastor is about to give communion)? These are familiar words to us, as we remember the Lord's Supper, when he first spoke these words to his disciples on the "night in which he was betrayed." They remind us of the betrayal, and the crucifixion: when he gave his life up, to be a ransom for many. He told us to remember him in the body and the blood -- the bread and the wine.
Condoms?
It may sound sacrilegious to equate condoms with those words. But think about it, when you are about to engage in a sexual union with another person these days, aren't you giving up your body? I am not going to get into the "religious right" about having sexual relations. Of course I would hope that you are in a committed relationship, and even then, that both of you have been tested every six months for at least a year, before you trust yourselves with each other's bodies without a condom.
And for those of you who partake of the "feast of the body" in non-committed relationships, my prayer is that you use a condom EACH and EVERY time.
About two months ago, I was talking with someone about distributing condoms out of my church, during our HIV Testing Events. Didn't know where I was going to get the condoms, but this person did. He had connections within one of the Health Clinics and showed up at my doorstep with a plastic bag FILLED with about a thousand condoms! Gasp!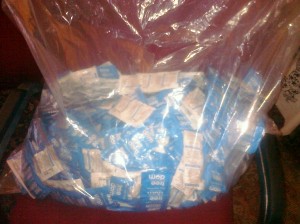 Bag of condoms.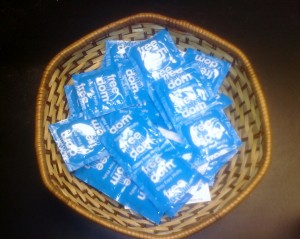 Bowl of condoms.
Now, how do I get them inside the church? How do I distribute them, without causing an uproar; and wondering who is going to be offended? They sat in my office for almost two months.
We had our bi-monthly HIV Testing this past Saturday. I threw on my HIV shirt to get ready for both the "Community Meal" and to greet our testers, and as I walked out the door, I glanced at the bag of condoms ... threw all caution to the wind, and grabbed a bagful. In the words of someone (I don't remember who) that posted a comment on one of my FB status':
"Full speed ahead, damn the torpedoes!" ... and basically, that is what I did.
Went inside our hall, found a cute little African basket and filled it with condoms ...
... and proceeded to place them on each table (about 7 of them), as people were eating. The testers were also periodically going around each table, inviting folks to get tested. This might seem invasive to others, but we have been conducting the HIV tests now for about a year, and our regular guests are familiar with what is happening, and do not mind it at all! On any given test date, about 5 folks get tested on the average. Yesterday 6 were tested. It doesn't matter if only one gets tested, you never know, that "one" ... might test positive. And while it may be sad for a moment, that one person will get the resources they need to begin treatment and live a long productive life, as opposed to never knowing and getting sick down the line.
But back to the condoms.
There was one thing that I did purposefully, this first time. And that is that I didn't wear my collar as I usually do, when I wear my HIV Positive shirt. I felt that I might make someone uncomfortable wearing a collar and passing out condoms, and engaging them in conversations about safe sex. It was a learning experience for me as well. Next time, the collar will be visible. I don't know why I felt so ... I have developed a trusting relationship with this community, so perhaps that was just my "stuff."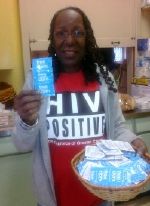 Condoms save lives. Always check the expiration date. This batch is good until 2016.
The amazing thing is that I had to refill that bowl about 4 times. As quick as I put the condoms on the tables, people were snatching them up. It was interesting to watch their reactions. Most were quick to say: "thanks!" A few were quick to say: "I don't need them, but I know someone who does" (lol). Whether that was truthful or whether they were just a little embarrassed, that didn't matter either. What does matter, is that they were taking them. Who knows how many lives will be saved as a result of handing out those condoms?
This is my body, given for you. This is a condom, given for you. Use it! Protect yourself! Protect your partner! Protect your spouse! Just check yourself, before you wreck yourself!
Still, there was the worry about what my congregation might think, how they would handle the knowledge that their pastor is passing out condoms to the community. And so, during the announcements after this morning's service, I informed them that I introduced condoms to the testing event. As I announced that I began handing out condoms yesterday, one of our members who just happened to be there yesterday, chimed in from the back: "she sure did!" Folks chuckled. I told them that I wanted them to hear it from me, before they heard it from someone else.
For the most part, I believe they understand. More importantly, they know their pastor. I don't know if they ALL are understanding and accept what I am doing. Time will tell. The "rumor mill" will tell.
I need to say unequivocally, that I am NOT condoning casual sexual liaisons. I am not, but neither am I judging them. I just want everyone to be safe. It is a matter of protecting not only your body, and my body ... but the body of the community at large.
Amen.
Get email notifications every time this blog is updated.
---
Add Your Comment:
(Please note: Your name and comment will be public, and may even show up in
Internet search results. Be careful when providing personal information! Before
adding your comment, please
read TheBody.com's Comment Policy
.)