On World AIDS Day, there were 6,595 people on ADAP waiting lists in 12 states. Four states are currently considering starting waiting lists, and 17 have instituted "other cost containment measures," including reduced formularies, medical criteria requirements, expenditure caps, lower financial eligibility, and client cost sharing. Six states have disenrolled 445 people due to changes in financial eligibility requirements. In Florida, they not only have the longest waiting list (3,213), but they have also reduced their formulary and are considering lowering financial eligibility requirements.
President Obama, in his World AIDS Day remarks, said he was committing "an additional $15 million for the Ryan White Program that supports care provided by HIV medical clinics across the country. We want to keep those doors open so they can keep saving lives. We're committing an additional $35 million for state AIDS-drug assistance programs." But as we've learned the hard way, no matter how good his intentions are, without the cooperation of Congress, those commitments will not be fulfilled.
In addition to HIV/AIDS-specific programs, there are also the well-known threats to Medicare and Medicaid, which many HIV-positive people rely on, and the uncertainty of how much, if anything else, of the Affordable Care Act (ACA) will actually become a reality.
According to the press release entitled "The Beginning of the End of AIDS" issued on World AIDS Day, the ACA "seeks to expand Medicaid for the lowest income people; it strengthens and improves Medicare, and makes private insurance work better for all Americans, including people with HIV." The operative word there is "seeks" (when Medicare and Medicaid are attacked almost daily by those who want to see them entirely destroyed) and does anyone really believe that private insurance will ever "work better for all Americans"?
Advertisement
At the U.S. Conference on AIDS in Chicago in November, there were several sessions devoted to the issues of access to treatment, sustaining ADAP, preparing for the implementation of the ACA, and how the 2012 elections could affect the HIV community.
As someone attending her first HIV conference, a reporter for Positively Aware, a political junkie, and a single-payer activist, I found myself in four of those sessions repeatedly asking the same question of speakers who seemed to take it for granted that the ACA would roll out in 2014 as promised in the legislation signed in 2010. The question was: If the ACA either doesn't get implemented as planned or fails, does the HIV community have a Plan B?
It seems curious that a community which has been so successful in its activism in the past, that has never allowed itself to accept a too-good-to-be-true scheme, and that is certainly not naive in the ways of politicians would be so completely taken in by the rosy promises of the ACA's expansion of Medicaid to "cover everybody."
In a session entitled "The Ryan White Program and the 2012 Election, 2013 Reauthorization and 2014 Health Care Expansion: What Next?" Anne Donnelly of Project Inform answered that single-payer was originally Plan A, and AIDS advocates had fought hard for it, but,obviously, it didn't even make it to the table. She went on to say that the ACA is now "the law of the land," implying that it would indeed be implemented, but both she and Ernest Hopkins, Director of Federal Affairs at the San Francisco AIDS Foundation, admitted that perhaps some more thought should go into devising a Plan B.
The next morning, attending the "Sustaining ADAP Until 2014" session, led by the AIDS Institute's Carl Schmidt and featuring PA's Jeff Berry, I expanded on the question by adding the proposal that the HIV community start reaching out to other "disease groups" in order to form an unified voice in demanding single-payer health care. Mr. Schmidt assured me that some of that outreach was taking place.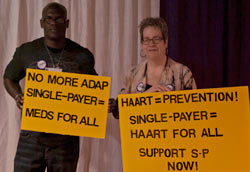 Between sessions, TPAN volunteer Jimmy Simpson and fellow staffer Tom Holler joined me in the hallway outside a session called "Progress Not Repeal" about the implementation of the ACA. We held signs urging support for single-payer and handed out fact sheets on the benefits to HIV-positive people -- until hotel security people told us such activity was "against policy" and then stood there to make sure we weren't being "raucous" or disruptive. I guess they'd heard about the "Occupy Gilead" protest that took place in the Exhibition Hall -- kudos to whoever organized that well-designed, obviously well-rehearsed, articulately raucous protest of Gilead's high price for Atripla and CEO Jim Martin's $42 million salary.
Perhaps it's not just about the ACA or the state of the health care system at any given time. Perhaps we should also be questioning the goals of the National HIV/AIDS Strategy -- not for their value, but for their viability. Everyone agrees that the goal of testing more people and linking them to care is not only sound public health care policy, but it will save money in the long run. But once again, if we can't even guarantee treatment for the people we know are positive now, how can we expect those who would be newly diagnosed to willingly be tested?
New York City's Health Department has now recommended providing HIV drugs to every person who's diagnosed, as soon as they're diagnosed. According to an AP story, "City health officials said they anticipated that the cost for expanding the use of AIDS drugs would be covered by private insurance or by the AIDS Drug Assistance Program, a $270 million program for the uninsured or underinsured that is partially funded through federal dollars. The health officials said they expect the benefits over the long term would far outweigh the initial costs because there would be fewer hospitalizations and new HIV cases." But what if people are uninsured or can't afford the co-pays? What if New York's ADAP, like many others across the country, can't handle the influx of new enrollees and institutes a waiting list?
No one can predict how this will turn out. Skepticism is sometimes the healthiest approach, and in this case, it certainly seems to be. I hope there are HIV/AIDS advocates out there who are thinking about Plan B, who are talking to cancer survivors and cardiac patients and diabetics. I hope the HIV community will lead when the ACA inevitably fails and the battle lines are drawn in the fight for single-payer health care. But to do so, we have to be prepared for the fight.
Lots of people at USCA told me I was preaching to the choir with my single-payer message. I say the choir needs to rehearse so when the time comes, the song will be huge and undeniable and triumphant.