I, Too, Am Black History: Bayard Rustin
By Candace Y.A. Montague

February 13, 2012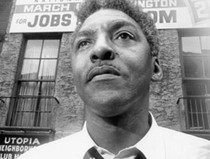 Bayard Rustin, champion of rights for all. Credit: flickr.com.
Since this is Black History Month, I would be remiss if I didn't highlight some of the African-American LGBT pioneers who paved the way for equality and acceptance. What does this have to do with AIDS? It's simple. Stigma comes from ignorance. Stigma drives hate and forces people to conceal their true selves and their struggles (such as with HIV). Stigma can lead people to engage in unhealthy and risky behaviors behind closed doors. So in order to demolish stigma, we need more education. During the month of February I will implant a few lessons for my readers about some great members of the African-American LGBT community who lived out loud. They were trailblazers. Fierce, outstanding, unapologetic, and courageous people who simply would not take "no" for answer.
First Featured Warrior: Bayard Rustin
Bayard (rhymes with hired) Rustin was born on March 17, 1910 in West Chester, Pennsylvania. His grandparents raised him as a Quaker. In 1932, he entered Wilberforce University on a vocal music scholarship. He finished his education at City College of New York. While in New York, Rustin became interested in the famous Scottsboro Nine case where nine black young men were accused of raping two white women on a train. This experience was Rustin's first exposure to activism.
Bayard was a master organizer. He was tapped to organize several marches along his journey including the March on Washington for Jobs and Freedom in 1963. He was also a member of several organizations including, the Communist Party of America, the Fellowship of Reconciliation, the Socialist Party of America, and the Southern Christian Leadership Conference with Reverend Martin Luther King Jr. Many described Rustin as dependable and strategic so when it was time for action, he was the man that could get it.
Imprisonment didn't stop this warrior from fighting for his rights and the rights of others in a non-violent way. Rustin was arrested many times in his life. His longest imprisonment was in 1943 when he was arrested for refusing to go to war because he was a pacifist. In 1953, Rustin was arrested for engaging in lewd sexual acts with two other men in a car in Pasadena, California. It was against the law, at the time, for men to engage in consensual sodomy. He served 60 days for this "crime." It was then that he was outcasted for his sexual orientation and was characterized by Strom Thurmond as a "communist, draft dodger and a homosexual." This still did not halt Rustin in his quest to be an activist and ally to marginalized populations.
During the Gay Rights Movement, Bayard Rustin was an outspoken advocate. Throughout the 1970s and 1980s, he continued to fight for gay rights and acceptance. He was an elections monitor for Freedom House and testified on behalf of the New York State's gay rights bill.
Bayard Rustin died of a perforated appendix on August 24, 1987. He was 77 years old. In 2003, a movie about Rustin debuted at the Sundance film festival. It received rave reviews.
Get email notifications every time this blog is updated.
---
Add Your Comment:
(Please note: Your name and comment will be public, and may even show up in
Internet search results. Be careful when providing personal information! Before
adding your comment, please
read TheBody.com's Comment Policy
.)