AIDS Activists Face Prosecution for Chanting
By Candace Y.A. Montague

February 13, 2012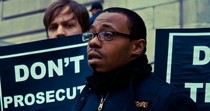 Activist Antonio Davis faces prosecution for his medical condition. Credit: Larry Bryant.
Ten months, five court appearances, three prosecutors, and one U.S. Attorney. This is the backdrop of an excessively lengthy court battle over activists exercising their right to protest a cut in needle exchange funding. A group of AIDS activists have been misled into thinking that a few hours of community service and drug testing would absolve them of charges of misdemeanor trespassing. Now they are facing trial and six months in jail. How harshly should someone be punished for exercising his or her first amendment right to free speech? The answer to that question apparently varies from person to person.
Last April, 12 demonstrators gathered at Representative Eric Cantor's office to protest his proposal of a restriction on the District's budget for needle exchange. They were chained and chanting while seated on the floor in his office. Police requested that they leave three times with a bullhorn. When they refused, arrests were made. The group was released hours later and offered a deferred prosecution agreement of 32 hours of community service and three negative drug tests. Since being offered the agreement, the case has been transferred to two more prosecutors and each one has reset the terms of the deal. Matt Kavanagh, for example, has had to complete 64 hours of community service already and is now required to complete 32 additional hours.
The part that makes this case such a stickler is the case of Antonio Davis, a Philadelphia resident who participated in the demonstration. Davis has full blown AIDS and a painful joint disease. He has been advised by his physician to use medical marijuana to give him an appetite to eat. He has presented letters to confirm this prescription but that has not excused him from the drug tests. Davis will go to trial on May 7th due to failed drug tests unless the charges are dropped. If convicted, he could lose his paralegal license.
The fate of these protestors lies in the hands of U.S. Attorney Ronald Machen. He can accept the terms that have already been fulfilled, excuse Davis from the drug-testing portion of the agreement, and drop the charges. As of today, he is choosing to prosecute. Is this a case of Occupiers fatigue in which Machen is attempting to make an example out of these protestors? What good will it serve to prosecute a group of people who were simply chanting in an office? Machen's office plea-bargained 43 cases last year; many of which involved homicide charges. When does exercising free speech pose the same threat as a murder? Surely there are more critical cases to be tried than some chanting demonstrators. Mayor Gray and select council members committed a similar infraction on the same day. Yet they paid a $50 fine and were done in no time (so much for justice being equal).
It's time for the U.S. Attorney to use his bargaining skills to dissolve this case and focus on issues that are a real threat to our world.
Get email notifications every time this blog is updated.
---
Comment by: Antonio Davis
(Philadelphia PA) Thu., Feb. 23, 2012 at 12:14 pm UTC
Thank you all for the support. keep sharing this issue.
Add Your Comment:
(Please note: Your name and comment will be public, and may even show up in
Internet search results. Be careful when providing personal information! Before
adding your comment, please
read TheBody.com's Comment Policy
.)