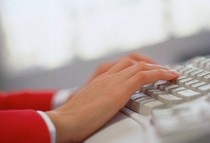 Learn to present an abstract at HAHSTA this Friday. Credit: magnetfish.com.
The International AIDS Conference will be here in July. It is my greatest wish to get as many of my readers there as possible (especially those of you who live with HIV). One great way to be there is to be a presenter. There is a very informative abstract writing workshop that is coming up at HAHSTA on this Friday. It promises to be just one hour long. Please make an effort to get there and learn whatever you can about submitting an abstract for a potential workshop. Here's the info straight from HAHSTA to you.
HAHSTA will be conducting a one hour workshop on writing abstracts for those of you who may be interested in submitting abstracts for AIDS 2012. The workshop will be this Friday, February 10 at 3:30 p.m. at HAHSTA, 899 North Capitol Street, NE, Fourth Floor, Room 407. For questions or to RSVP, please contact me at (202) 671-5001 or michael.tietjen@dc.gov.
Training Workshop on Abstract Submission to Conference Meetings, February 10, 2012
The goal of this training workshop will be to provide a brief training opportunity for young and/or less experienced abstract submitters, community based organizations, and HAHSTA staff who are planning to submit an abstract to AIDS 2012 conference or other conference meetings, e.g., APHA, NHPC, CROI, etc.
Turning the Tide Together: Introduction of AIDS 2012 and D.C. Engagement
Gregory Pappas, M.D., Ph.D., Senior Deputy Director, HAHSTA, D.C. DOH
3:30-3:50 p.m.
How to Write an Abstract That Will Get You Accepted as a Speaker
Irshad Shaikh, M.D., Ph.D., Deputy Director, Policy and Programs, HAHSTA, D.C. DOH
3:50-4:10 p.m.
HIV Prevention Science Advances and Abstract Presentation
Yujiang Jia, M.D., Dr.P.H., Chief Epidemiologist, HAHSTA Strategic Information, D.C. DOH
4:10-4:30 p.m.