D.C. Activist Chosen as Spokesperson for Black HIV/AIDS Awareness Day
By Candace Y.A. Montague

February 7, 2012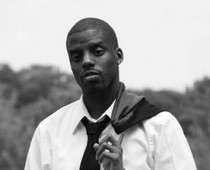 National NBHAAD Spokesperson Chris Barnhill.
Christopher Barnhill thought life was over at age 16 when he found out that he was HIV positive at a health fair one day. His mother died of complications due to AIDS in 1989. Yet he soon discovered that his journey was just beginning and that his testimony would be the springboard to help many other people come to terms with their diagnosis. Now thriving at age 26, Chris is healthy, vibrant, and working as the Schools Engagement Manager for Metro Teen AIDS, a popular youth-oriented non-profit organization in Southeast. He was recently chosen as one of the esteemed national spokespeople for National Black HIV/AIDS Awareness Day. Chris shared his perspective with me in a recent interview.
What were your early days like with an HIV diagnosis?
I didn't really know what HIV was and I was scared. I started planning my own funeral. I equated HIV to death. The only knowledge I had about HIV was from the movie Philadelphia. I wasn't sure what it all meant. Once I calmed down and realized I wasn't going anywhere, I heard the calling from God to go out and talk about HIV to anyone who would listen. And if they didn't listen I would talk about it anyway.
Do you feel that you are subjected to less judgment because you were born with the virus as opposed to contracting it through risky behavior?
Yes. At one point I was tired of telling people how I got the virus because I felt like they were trying to figure out where to place me. Should they feel sorry for me or should they not feel sorry for me. I have been on panel discussions with people who were infected through behavior. The audience would say, "Oh, Chris. I'm sorry to hear that." But when they talk to the panel members who got infected through sex or drugs, they would look at them like oh well you deserved it. But HIV doesn't discriminate. It's an equal opportunity employer. I don't like it when people try to put others into good or bad categories. That creates stigma.
What does being the national spokesperson for NBHAAD mean to you?
It's definitely an honor and privilege to serve as national spokesperson. Sheryl Lee Ralph, Reverend Al Sharpton, Congresswoman Barbara Lee are also spokespeople and I just feel honored to be among them. What it means to me is that it gives me a chance to reach out to people who have not heard my story. It also gives me a chance to promote the urgency of getting tested, getting treatment, and staying in care. [Being a spokesperson] gives me a platform to reach new people.
Advertisement
Which is more difficult to disclose? Your sexual orientation or your HIV status?
I don't think either of them are hard for me because I've been so public with my HIV status. Most people come to me and assume that I'm gay or HIV positive. I'm comfortable with my HIV status and that helps me to reveal it when I'm dating. God forbid that person reads an article about me and learns about my status that way. That can be problematic. I just make sure I don't create any scandals in my personal life by disclosing early on. The gay thing is not a problem because I'm really comfortable in my skin. I don't necessarily say "Hi! I'm Chris and I'm gay. What's yours?" But I just make sure everything is out in the open from the start.
You work with teens as far as setting goals, making good choices, sexual health, and maintaining high self-esteem. What are your greatest challenges in working with youth?
I manage a team of folks who go out into the schools and work with youth on reproductive health. The challenge I see is message fatigue. They say "Oh my God! HIV. I know, I know. We've already discussed it. Yes I know that it human immunodeficiency virus." This fatigue has caused a lot of them to shut their eyes to HIV.
What's your message to African-Americans about HIV as a man living with the virus?
HIV is more than just an orange or blue pill. HIV is a lifestyle. If you're not ready for this lifestyle, don't engage in activity that will push you closer to it. It's a hard lifestyle to manage.
Congratulations to Chris on his accomplishments. A hometown man with a champion spirit. Expect to see even more of him in the near future.
Get email notifications every time this blog is updated.
---
| | |
| --- | --- |
| No comments have been made. | |
Add Your Comment:
(Please note: Your name and comment will be public, and may even show up in
Internet search results. Be careful when providing personal information! Before
adding your comment, please
read TheBody.com's Comment Policy
.)