Brief D.C. Must-Do List: Black AIDS Awareness Day 2012
By Candace Y.A. Montague

February 6, 2012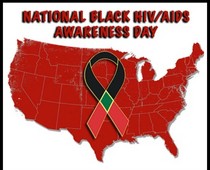 Local organizations are working hard for Black AIDS awareness. Credit: about.com.
National Black HIV/AIDS Awareness Day is Tuesday, February 7th. But the District will have to look extra hard to find events that recognize this day. Unlike World AIDS Day, when I am flooded with emails about vigils, cocktail parties, congressional briefings, demonstrations and so forth, I have a short list of activities for you this time that pertain to Black AIDS Awareness. In DC, 4.7 percent of African-Americans live with the virus. Among African-American males, the infection rate is an alarming 7.1 percent. It's a crisis that has been so perpetual that the rest of the world has seemingly become immune to the stats. Please don't tune out. Take the time to learn and do something new to fight HIV/AIDS among African-Americans. Here's the list:
Tuesday, February 7th
In Search of a Black Solution: What do we say? Community Forum moderated by George Curry. Guest speakers include Congresswoman Maxine Waters, Carolyn Massey, and Dr. Christine Wiley. African-American Civil War Museum 1925 Vermont Avenue, NW 20001. 6 pm-9 pm.
Brave Soul Collective presents Moments of Truth: Healing Ourselves from the Inside Out theatrical performance. Warehouse Theater 645 New York Avenue, NW 8 pm. Tickets are $15 in advance and at the door. Click here for more infomation.
Free HIV Testing. Whitman-Walker Health's Mobile Unit. Anacostia Metro Station. 11 am-1 pm. Elizabeth Taylor Medical Center 1701 14th st, NW 9 am- 5 pm. Max Robinson Center 2301 Martin Luther King, Jr. Avenue SE 9 am- 4:30 pm.
Friday, February 10th
Third Annual For the Love of You. Performances by local young artists. Free food, HIV/STI testing and a chance to win dinner and a movie for two. Presented by Metro Teen AIDS. Free Style Youth Center, 651 Pennsylvania Ave. SE. 4:30 pm- 8:00 pm.
Check back later as this site will be updated with new events as they are announced. Click here to see which events are registered on the National Black AIDS Awareness Day website.
Get email notifications every time this blog is updated.
---
| | |
| --- | --- |
| No comments have been made. | |
Add Your Comment:
(Please note: Your name and comment will be public, and may even show up in
Internet search results. Be careful when providing personal information! Before
adding your comment, please
read TheBody.com's Comment Policy
.)