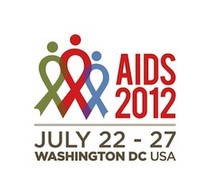 Activity planning is in full swing as the conference gets closer.Credit: www.aids2012.org.
Have you heard the news? Many of you have by now. The slate of plenary speakers has been announced for the 2012 International AIDS Conference. The plenary speakers will begin each day of the conference, which is set for July 21st through July 27th 2012 here in DC. The line up of speakers includes a range of leaders from global organizations. They are all well-known and respected experts in the fields of science, politics, and advocacy. But there's a blank space in the list of speakers on HIV/AIDS that leads keen observers question: where are the female speakers who are openly living with HIV?
The face of HIV/AIDS is quite unique here in the United States. In the US, it has become increasingly obvious that women are the face of HIV. Women are more susceptible to HIV infection, especially when there is a presence of certain STDs. Women who live in poverty, have limited access to health care or are in abusive relationships are at a greater risk for HIV infection. African-American women comprised 57 percent of all new infections among women in 2009. Sean Strub, founder of POZ, highlighted a letter written by a woman who is positive in his blog regarding the plenary speakers. I gasped when I read it because the writer literally took the words out of my mouth when I read the list. Her letter stated, in part, that women outnumber men as far as infections go worldwide and this disease has disproportionately affected women of color. Since the conference is here, why not have a few openly HIV positive women to speak at the plenary. Maybe the chosen few are positive. I don't know for sure. But I would hope that if they are, then they would be willing to share their story. So far, the only champion that represents the African-American face is Phil Wilson, CEO of the Black AIDS Institute. Mr. Wilson, who has been openly living with HIV for 20+ years, is always a great choice but there needs to be more.
Now realistically, there are a myriad of topics that need to be addressed at this conference and time limits which ones are selected. But if we are truly aiming to "turn the tide together" as the theme of the conference suggests, we cannot afford to leave HIV positive women out. I am excited about the IAC coming to my hometown and I plan to be in attendance (fingers crossed). And when it's time for the single presentation on women and girls during the plenary sessions, I plan to be on the front row.
To register for the International AIDS Conference, click here. For scholarship information, click here. Better hurry up though. The deadline for scholarship applications is February 15th.
(Please note: Your name and comment will be public, and may even show up in
Internet search results. Be careful when providing personal information! Before
adding your comment, please
read TheBody.com's Comment Policy
.)