I Get Tested Too!
By Rev. Andrena Ingram

January 23, 2012
Ouch! I told you that my good vein is in my left arm!!!
I can't believe how many years I have been doing this. I got tested once for HIV, and now I still get my blood tested every three months to see what the virus is doing in my body. For the past 23 years, I have been doing this!
Twenty three years ago, I remember getting "tested" every other month. During one stint, I was getting my blood tested every month. That was a bummer. It took a minute before they found the exact regimen that began working for me.
What my blood is tested for: How are the medications affecting my liver? What is my hemoglobin? My viral load? My CD4 Count? How is my cholesterol? What's going on with my red and white blood cells? And there was a whole slew of other things they test for. Oh, and today they tested to see if I have tuberculosis (they do that once every coupla years).
I got my flu shot in September. Today, I got my pneumonia shot. I go back next week to start on my series of hepatitis B shots -- three consecutive shots spread over a few weeks (to make sure I don't get it).
My CD4 count is higher than it was 23 years ago, and my viral load is 30. (The 30 is probably a blip ... happens if you are stressed or getting over a cold ... most anything can cause a blip, so I am not worried about it.)
I make drawing my blood an adventure for the phlebotomist! I make her laugh, and we end up laughing at my "inner child" coming through when it is time to draw the blood.
Speaking of which: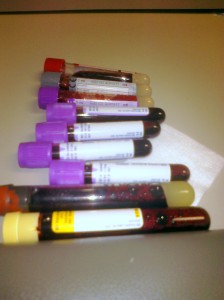 I vant to test your blood!

Getting the blood drawn and sent off to the labs, can sometimes be stressful. Especially when you have had the virus for as long as I have. The next visit it is always stressful to sit in Lizzy's office and wait for her to read off my numbers. And God forbid Lizzy calls me before the next visit! I start hyperventilating because I always think something is wrong with my numbers.
But I forgot to tell you something else about Lizzy. She is always on the lookout for things I may be interested in getting involved in.
Anywho, that is what it is like for me every three months. Having HIV is not just popping pills. There are regular doctor visits, lab reports and I am truly amazed that any of us (my brothers and sisters) have any blood left ...
... so draining. (Get it?)
Get email notifications every time Pastor Andrena's blog is updated.
---
Add Your Comment:
(Please note: Your name and comment will be public, and may even show up in
Internet search results. Be careful when providing personal information! Before
adding your comment, please
read TheBody.com's Comment Policy
.)