In This Corner, the Scale
By Rev. Andrena Ingram

January 23, 2012
Well, there you see it ... the scale!
Most women have some ongoing love/hate relationship with their scales. Add HIV or AIDS to the equation, and you get a whole 'nutha dynamic.
I have been talking and writing off an on about my struggle with my weight. And I must say again, that it is not really MY struggle, but other people's struggle with where THEY think I should be as far as weight goes.
I have ALWAYS been small. There was one regimen of HIV meds that put a lot of weight on me, and it was before I was diagnosed with diabetes that my weight blossomed to over 150. Ugh! Talk about a butterball (for me).
Here is my wedding picture, back in 1991. I was 125 tops. Wish I had more pics to post.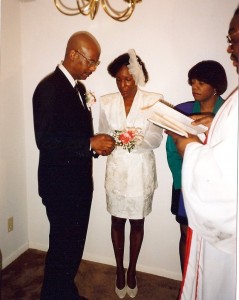 Well, this is all I have at the moment.

Since I have been here in Philly, I have gone between 125 and 140. The funny thing is that at 140, I feel horrible, but everyone thinks I look "healthy." Do you have any idea how much of that 140 is actually FAT and not good muscle? When I get my weight down to where I feel good, filled with energy, it is around 120-125. No fat ... muscle. And everyone begins commenting: "you've lost weight," "are you feeling okay?" YES! I am feeling FINE!
In September, when I went to the doctor, I was at 121. A little worrisome, but not the end of the world ... considering it is my ideal weight for my height and age. But, I wanted to put a few more pounds on so folks would stop looking at me as if I were on my last leg. Recently, I have been feeling miserably heavy again. I even remarked this morning: "my skinny jeans don't fit anymore!" Knew I was going to have a battle with the scale again.
Sure enough, I get in the doctors office ... on the scale, and I didn't even want to look at it! It was 131. Not a lot ... but too much for me. I can't run up my stairs without getting winded ... and my clothes do not fit.
My doctor went into her charts ... I am 5'4", and the lowest weight that would be ideal for me is 121. So, to be on the safe side, we are shooting for about 125-6.
So, when you see that I have lost weight. It is because I am getting to a "healthy" weight for ME.
I wrote about this before on a deeper level.
Get email notifications every time Pastor Andrena's blog is updated.
---
| | |
| --- | --- |
| No comments have been made. | |
Add Your Comment:
(Please note: Your name and comment will be public, and may even show up in
Internet search results. Be careful when providing personal information! Before
adding your comment, please
read TheBody.com's Comment Policy
.)