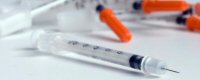 One of the most effective weapons in the fight against HIV. Get out of the way, Washington!
Shocking many AIDS and harm reduction advocates, last week Congress approved a bill that reinstated the federal ban on syringe exchange funding through fiscal year 2012.
Activists are now left wondering what to do next to push the Congress and President Obama on this issue, which is proven to save many lives and drastically reduce new HIV infections in injection drug users.
"It's disheartening to see after 12 years of hard work to get this ban lifted in 2009, Congress brought it back with the stroke of a pen," said Christine Campbell, VP, National Advocacy and Organizing for Housing Works.
Advocates like Ronald Johnson were heartened by how many people took action to try to protect needle exchange funding -- an issue that would not have galvanized the public just a few years ago. In an opinion piece posted on AIDS Action's website, Johnson wrote "AIDS United has sent five Action Alerts ... and can confirm that our alerts were opened more than 10,000 times. Many activists were greeted wearily by Congressional staffers who had been taking calls in support of syringe exchange programs all day."
Advertisement
Housing Works also had several people report back that they had to call Senator Schumer's New York office, because his Washington, DC line was busy for hours.
The funding for syringe exchange programs has been an important tool in reducing HIV infections. Washington D.C., though not impacted as much by the change (they still get to use their local funds for syringe exchange), has reported that "there was a 60% decrease in the number of new HIV/AIDS cases attributable to injection drug use from 153 in 2007 -- prior to the scale up of D.C.'s needle exchange programs -- to 62 in 2009. The [D.C. Health] Department is convinced that the expansion of needle exchange programs has resulted in this decrease in new HIV/AIDS cases."
What next? Some advocates have hope there may be room to tweak the bill that President Obama signs to give them a loophole to keep the funding flowing. Some are planning major petitions and letter writing. But Campbell thinks we need to do more.
"Moving into next year, I'll be asking how we can move more loudly and boldly," she said. "People's lives are at stake, and we're going to have to raise the stakes if we want real change."
Follow the Update blog on Twitter @housingworks.