Occupy HIV
By Brooke Davidoff

December 17, 2011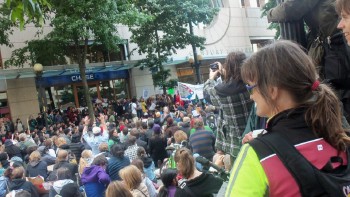 Sit-in in front of one Chase bank location in Downtown Seattle.
In the streets they gather
screaming for a future
Lacking jobs, insurance and hope
The other side claims everything is fine
You stole their houses
Their jobs
Let them bail out your bank
Laid them off to thank them
Now you send in the cops
To shut them up
They have nowhere to go
No jobs exist to occupy their time anymore
And it's because of you
You outsourced their jobs
For cheaper wages
What were they to do
You don't care
It doesn't effect you
You profit from our hardship
You smile your ass to the bank
We cut and downsize as best we can
ENOUGH IS ENOUGH
We can't live on less
We can't cut any more corners

I am a political junkie. I am also a media addict. I majored in journalism and being a total liberal how could I NOT fall in love with the Occupy Wall Street movement? I am the 99 percent. We are just floating along in the water with debt up to our necks.
History is written daily. Little things impact us that we see on the news that we did not expect. Things like Columbine and Katrina, 9/11, Virginia Tech. Well, Occupy found ME. These are MY people. This is MY cause. More than 50 percent of my income goes to rent. The last few weeks we have had rent and gas money and $100.00 for groceries for two weeks -- that's it.
I was supposed to go to the doctor a few months ago and don't even have the money for my co-pay to get into the doctor. What's the point of medical insurance when you can't afford to use it?
We are all affected by the economy.
According to HIVPlusMag.com: "HIV-positive residents in 39 U.S. cities may soon be facing difficulty accessing some federally supported AIDS services because of program cuts to offset steep Ryan White funding reductions. The Department of Health and Human Services awarded $595 million nationwide in Ryan White AIDS funds in March; the amount is about $5 million less than distributed in 2003. Funding cuts ranged from 3 to nearly 14 percent ..."
How can we logically cut funding? If you are HIV+ and on meds there has to be some financial help to keep you on meds to keep US out of hospitals.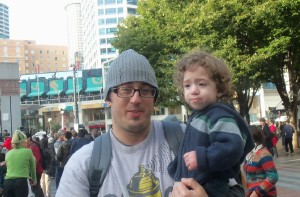 Myles and Daddy Keanen at Occupy Seattle.
We went to Occupy Seattle, took Myles to his first protest; my dad would be proud. Walked among 500+ people fed up with the system. Our generation has needed a movement like this for a long time. They had a sit-in in front of a Chase bank. I hadn't felt so much unity since AIDS Walk. We need to stand up for each other more in America.
Watching the videos of Occupy Oakland where my brother lives made me sick: police beating nonviolent protesters. Where are we, Iran? Since when did America become against free speech?
Thursday December 1st, eight people were arrested at Occupy Wall Street in New York for protesting cuts to HIV/AIDS housing and services. The cuts in New York alone were $10 million. More than 110,000 people in New York have HIV/AIDS per NY1.com.
To make this issue hit home even more: I was talking to a woman who found me on TheBody.com. She lives in Mozambique and is married, pregnant and HIV+. She gets FREE medical care. Free meds at an HIV clinic all sponsored by the U.S. and the UN. She was saying when she was diagnosed her husband wanted to move them to the U.S. for better health care for her and the baby. In talking we have both realized here is NOT better. Not by any means. She gets two months off maternity leave at full pay, free meds. When I was pregnant, my out-of-pocket cost for meds alone was $500 a month.
Get e-mail notifications every time Brooke's blog is updated.
---
| | |
| --- | --- |
| No comments have been made. | |
Add Your Comment:
(Please note: Your name and comment will be public, and may even show up in
Internet search results. Be careful when providing personal information! Before
adding your comment, please
read TheBody.com's Comment Policy
.)