As an action-packed year for the HIV/AIDS community draws to a close, TheBody.com takes stock of 2011 in a new series of articles, "2011 HIV/AIDS Year in Review." Read the entire series here.
What's it like to be part of the first-ever team made up mostly of openly HIV-positive riders to complete the Race Across America (RAAM)? Team4HIVHope conquered this grueling 3,000-mile challenge for the first time this past June, and blogged all about it along the way. Shortly after the race ended, team members sat down with TheBody.com to recount their experiences with the race, and how they were received as gay, HIV-positive ultra-endurance cyclists. Now, as the team welcomes new members for 2012, we look back on that conversation, presented in two parts.
Check out Part Two, and read all about the training, crew support, food choices (8,000 calories per day!) and HIV medical considerations that go into being part of a four-man team on a six-day, 3,000-mile cycling race.
See photos, read messages and learn more about the Team4HIVHope 2011 racers and crew.
Watch a teaser of Patrick Burns' film-in-progress about Team4HIVHope!
Steven Berveling
Jim Williams
Don Smith
Francisco Liuzzi
Sandra Smith
Carol Hyman
Olivia Ford: Don, Jim and Steven: How did each of you reach the moment when you felt comfortable publicly acknowledging your HIV status? Have all of you been open about it since your HIV diagnoses, or did it come with time? Did it have anything to do with your being involved in teams, and being involved with cycling? Or with triathlon?
Jim Williams (racer, living with HIV since 2006): I was out about my status almost immediately. I was really lucky, because right after I found out, I went on AIDS/LifeCycle; the Positive Pedalers group embraced me when I felt unembraceable. And so that really gave me the strength to come back to New York, and to be out about my status and tell my friends, and build the support network that I think that everybody who has HIV needs. I hate using the word empowering, but it really is empowering when you're able to be open in that way. Unfortunately, in this country, not everybody has that luxury.
That's one of the reasons we were doing this race: to try to eliminate a lot of the stigma and the doom that are attached to this disease. In order to thrive, you've got to be able to have a support group. It's great if your friends and your family can know. I was really lucky in that way.
Don Smith (racer, living with HIV since 1986): I was not really public about my status until I did AIDS/LifeCycle for the first time, and met all the people on the Positive Pedalers, where they had this nurturing environment, and everyone was very open. It was kind of revolutionary to me to see these people riding around publicly, wearing HIV jerseys and flags on their bicycles and everything like that. That inspired me. After that, I started wearing Pos Ped jerseys within Ironman events, which really created a lot of discussion, believe me. It really was an empowering thing, to do that and see people's reaction -- not only the racers, who were quite surprised, but also the spectators, who cheered me on.
After that, it just was such a good experience that I kept on doing things like that. Even when I did an AIDS ride in Canada, from Toronto to Montreal; they didn't have the Pos Peds group. When I showed up wearing my Pos Peds jerseys, they were totally shocked. It was really a catalyst for great change and bringing openness to that group, as well.
Steven Berveling (racer, living with HIV since 1992): I was fairly quiet and conservative about my HIV status. My family and my close friends knew, but working in a very conservative environment, my work colleagues did not know, nor did my cycling buddies or the manager of my cycling club.
I had told the club president and the secretary so that they were aware, in case there was ever an accident. Once, a while back, I crashed onto the road and I'm going, "Oh, my God, I've got to tell them that I'm positive." And I did say, "Watch out, I'm positive." All my cycling buddies in that bunch just basically said, "Well, so what?" and helped me nevertheless. I then learned that it was not really the issue that I'd perceived it to be.
Once I decided to do the Race Across America, with a team of HIV-positive riders, it was obvious to me that I did have to disclose my status and become very public about it -- which I did. And I recall having a talk at work about the fact that I was positive. That speech was the hardest speech that I ever made. But it was also one of the most empowering ones. The response that I got was extremely supportive; the response that I've got through the cycling community here in Australia has been similarly supportive.
I found that coming out about my HIV status has been, as others have said, extremely empowering. It's really been worth my while, and I'm very, very glad that I've done it.
Olivia Ford: In all your experiences, do you find that HIV stigma and homophobia operate any differently in cycling and Ironman circles than they do among the general population? Are people who are drawn to endurance athletics more likely than "normal people" to evaluate their peers on the basis of skill level and shared interest rather than bias; or are they even more likely to be dubious of someone who's gay, or who's living with HIV?
Jim Williams: I think my team has been completely accepting. I've never hidden the fact that I was gay, and that's never really been an issue. The ones that I was friends with knew about my HIV status, but the entire team didn't know until I started to do RAAM. And then nobody had any issues with it that I'm aware of. I never felt like I was getting treated differently. So from my standpoint, I've never experienced that.
Steven Berveling: In my club, here in Sydney, we had one minor issue. Once my status became public to the entire club, which has 360 members, there had been an enquiry made from one member to the club committee, saying, "How can we have an HIV-positive rider in our bunches?"
The committee was very kind and tried to keep that away from me, but I learned about it anyway. They responded very succinctly to that member: "Well, at least we know Steven's health status. We do not know of the blood-borne diseases that any of our other club members carry. So we're one step ahead with Steven."
Don Smith: I've been very lucky, because in the sport of triathlon -- in Canada, at least -- one of the core values is inclusiveness. Therefore, they are very, very welcoming to anyone that's gay. It really hasn't been an issue. Have there been some uncomfortable things in the locker room? Sure. But that's life and that's going to happen anywhere.
In Vancouver, in fact, there are sufficient members that we even have a gay triathlon club. And not all the members of that club are gay, but because we have such a great time, and take such fantastic road trips up into the mountains and stuff, and we do some really great rides, members of the community at large elect to join our group.
Olivia Ford: How was Team4HIVHope received by the other teams, and by the organizers of the Race Across America?
Steven Berveling: Frankly, I thought they embraced us. When I first went to a RAAM seminar in Sacramento in late January 2011, the race organizers and all the other people that were at the seminar were delighted to hear that there was going to be a team of riders with HIV to do the race. They had been surprised that there had not been any riders, first that were gay and secondly that had HIV, beforehand.
When we were actually doing the race, one of the more memorable moments was when we were at the race seminar the night before, and we were introduced to all of the other teams and their crews in the hall. There would have been between 500 and 800 people there. We introduced ourselves and told them why we were doing the race. We had incredible unanimous applause from the entire hall. It was really a very humbling and wonderful reception.
That reception continued throughout the race, to the very end at the banquet in Annapolis. There was absolutely no issue at all with having an HIV-positive team doing the race.
Olivia Ford: I believe it was Don who wrote a blog entry after the race with the really amazing story of someone approaching him at a timing station in small-town Missouri and talking about his experience being HIV positive in a small town, and not being able to be open about his HIV status. On the race itself, how was the team received in some of the other towns and regions of the U.S that you passed through?
Jim Williams: I think we were received well, especially at the start. There were a number of Pos Peds, and Pos Peds supporters, that came down to see us off at the start. I think that, not only we as a racing team, but the reason why we were racing, were received well.
Olivia Ford: Were there people along the route that had some idea what your team was doing?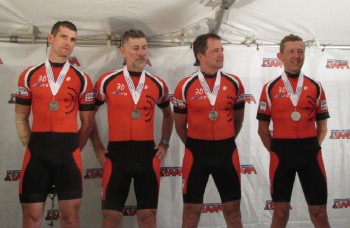 Team4HIVHope at the finish line.
Francisco Liuzzi (the 2011 team's only HIV-negative racer): You could have the Tour de France and Lance Armstrong running through the middle of the country, and people wouldn't even know what the hell was going on. Yeah, there were some great stories in places where the race was known. The response from everybody associated with the RAAM -- especially the race director, who really loved us -- was wonderful. I had guys coming up to me from other teams saying, "Man, this is so cool." I imagine they assumed I was HIV positive; and they were coming up and cheering all of us on. So that was great.
But out in the middle of the country, I don't think they had any idea what the heck the RAAM was, or Team4HIVHope. I got a lot of people yelling at me to get off the frickin' road. I don't want to aggrandize how people were viewing things. Nobody even knew what the race was in a lot of these towns, let alone what our cause was.
Carol Hyman (crew member, team publicist): The race is so spread out. I mean, literally, the racers may be hours and days apart. It's not like this peloton [bunch of riders] like you see on the Tour de France. We would occasionally pass another racer, but generally we don't even see anybody else. You almost feel like you're out there by yourself. It's not as if there are people standing by the road.
I do know that when we would stop at the time stations -- they were frequently at a Quickie Mart or something like that -- I'd go in and I'd always let the people know who we were, and what we were doing. And the response was very positive. Occasionally, you'd kind of get a look from somebody, but then they'd just go, "Well, that's great. You just keep on going."
Despite its size and the fact that it is known as the most difficult race in the world, mainstream press does not cover the RAAM. There's little interest outside the ultra-endurance cycling community. It's really too bad, because it's an amazing event. Every team has got great stories.
Sandra Smith (crew chief): I agree with Carol, but going back to what Cisco said, there were a lot of people out there who were angry just because there were cyclists on their roads. That was probably one of the more astonishing things to me. I don't think I have ever been spoken to so rudely by strangers yelling out of pickup trucks and semi trucks. We had some people throw firecrackers at one of our racers. The rudeness, when it came to people who didn't like the cyclists being there, was pretty shocking.
But anyone we talked to, particularly around the aid stations and the businesses where they set up aid stations -- they were just wonderful. Some of the people you'd look at, and if you were to stereotype them you'd say, "These people are going to hate us." But they were just so sweet. All of Joe's pictures with Dab the AIDS Bear and all these different people -- that really was amazing, when you look at all those pictures.
Don Smith: I think a testament to the type of reception we got was all of the photos that Joseph had people take with Dab the AIDS Bear: I mean, he had race directors; he had spectators; he had people at the timing stations; other crews; other teams; other racers ... everybody had a photo with Dab the AIDS Bear.

Olivia Ford: What's one word, or just a couple of words, that each of you would use to describe how you felt as you crossed the finish line of the Race Across America?
Sandra Smith: Overjoyed. Absolutely proud and overjoyed.
Don Smith: I was just so happy that I didn't fall down and make a fool out of myself. Because I was just too tired; I just wanted to get across that finish line and stand steady for a few minutes.
Francisco Liuzzi: I was proud. Very proud.
Jim Williams: I was ecstatic. It was a great moment. It was a great feeling. I had that feeling about falling down on the way, at the starting line, though, Don. I was afraid I was going to fall down there, rather than the finish line. I was worried about that.
Martin Berveling
Martin Berveling (crew member, living with HIV since 1980): My feelings when the team crossed the finish line in Annapolis were of great accomplishment in having completed the race in six days, six hours and 34 minutes, which actually felt like one very protracted day; and I felt enormous pride in my brother Steven and the team for how they had made their dream a reality.
And to be a part of that, I felt proud of myself too.
This transcript has been edited for clarity.
Check out Part Two, and read all about the training, crew support, food choices (8,000 calories per day!) and HIV medical considerations that go into being part of a four-man team on a six-day, 3,000-mile cycling race.
For more information on the team, see the team's website, its blog on TheBody.com, or on Facebook and on Twitter @team4hivhope.
Olivia Ford is the community manager for TheBody.com and TheBodyPRO.com.
Copyright © 2011 Remedy Health Media, LLC. All rights reserved.