Olivia Ford: I believe it was Don who wrote a blog entry after the race with the really amazing story of someone approaching him at a timing station in small-town Missouri and talking about his experience being HIV positive in a small town, and not being able to be open about his HIV status. On the race itself, how was the team received in some of the other towns and regions of the U.S that you passed through?
Jim Williams: I think we were received well, especially at the start. There were a number of Pos Peds, and Pos Peds supporters, that came down to see us off at the start. I think that, not only we as a racing team, but the reason why we were racing, were received well.
Olivia Ford: Were there people along the route that had some idea what your team was doing?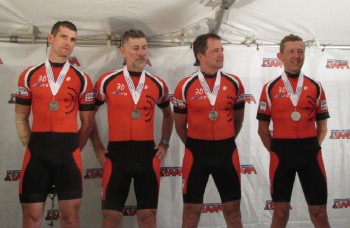 Team4HIVHope at the finish line.
Francisco Liuzzi (the 2011 team's only HIV-negative racer): You could have the Tour de France and Lance Armstrong running through the middle of the country, and people wouldn't even know what the hell was going on. Yeah, there were some great stories in places where the race was known. The response from everybody associated with the RAAM -- especially the race director, who really loved us -- was wonderful. I had guys coming up to me from other teams saying, "Man, this is so cool." I imagine they assumed I was HIV positive; and they were coming up and cheering all of us on. So that was great.
But out in the middle of the country, I don't think they had any idea what the heck the RAAM was, or Team4HIVHope. I got a lot of people yelling at me to get off the frickin' road. I don't want to aggrandize how people were viewing things. Nobody even knew what the race was in a lot of these towns, let alone what our cause was.
Carol Hyman (crew member, team publicist): The race is so spread out. I mean, literally, the racers may be hours and days apart. It's not like this peloton [bunch of riders] like you see on the Tour de France. We would occasionally pass another racer, but generally we don't even see anybody else. You almost feel like you're out there by yourself. It's not as if there are people standing by the road.
I do know that when we would stop at the time stations -- they were frequently at a Quickie Mart or something like that -- I'd go in and I'd always let the people know who we were, and what we were doing. And the response was very positive. Occasionally, you'd kind of get a look from somebody, but then they'd just go, "Well, that's great. You just keep on going."
Despite its size and the fact that it is known as the most difficult race in the world, mainstream press does not cover the RAAM. There's little interest outside the ultra-endurance cycling community. It's really too bad, because it's an amazing event. Every team has got great stories.
Sandra Smith (crew chief): I agree with Carol, but going back to what Cisco said, there were a lot of people out there who were angry just because there were cyclists on their roads. That was probably one of the more astonishing things to me. I don't think I have ever been spoken to so rudely by strangers yelling out of pickup trucks and semi trucks. We had some people throw firecrackers at one of our racers. The rudeness, when it came to people who didn't like the cyclists being there, was pretty shocking.
But anyone we talked to, particularly around the aid stations and the businesses where they set up aid stations -- they were just wonderful. Some of the people you'd look at, and if you were to stereotype them you'd say, "These people are going to hate us." But they were just so sweet. All of Joe's pictures with Dab the AIDS Bear and all these different people -- that really was amazing, when you look at all those pictures.
Don Smith: I think a testament to the type of reception we got was all of the photos that Joseph had people take with Dab the AIDS Bear: I mean, he had race directors; he had spectators; he had people at the timing stations; other crews; other teams; other racers ... everybody had a photo with Dab the AIDS Bear.

Olivia Ford: What's one word, or just a couple of words, that each of you would use to describe how you felt as you crossed the finish line of the Race Across America?
Sandra Smith: Overjoyed. Absolutely proud and overjoyed.
Don Smith: I was just so happy that I didn't fall down and make a fool out of myself. Because I was just too tired; I just wanted to get across that finish line and stand steady for a few minutes.
Francisco Liuzzi: I was proud. Very proud.
Jim Williams: I was ecstatic. It was a great moment. It was a great feeling. I had that feeling about falling down on the way, at the starting line, though, Don. I was afraid I was going to fall down there, rather than the finish line. I was worried about that.
Martin Berveling
Martin Berveling (crew member, living with HIV since 1980): My feelings when the team crossed the finish line in Annapolis were of great accomplishment in having completed the race in six days, six hours and 34 minutes, which actually felt like one very protracted day; and I felt enormous pride in my brother Steven and the team for how they had made their dream a reality.
And to be a part of that, I felt proud of myself too.
This transcript has been edited for clarity.
Check out Part Two, and read all about the training, crew support, food choices (8,000 calories per day!) and HIV medical considerations that go into being part of a four-man team on a six-day, 3,000-mile cycling race.
For more information on the team, see the team's website, its blog on TheBody.com, or on Facebook and on Twitter @team4hivhope.
Olivia Ford is the community manager for TheBody.com and TheBodyPRO.com.
Copyright © 2011 Remedy Health Media, LLC. All rights reserved.