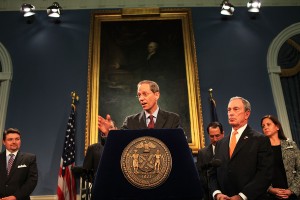 Farley's new treatment guidelines ignore the realities of HIV -- the policy is pure Bloomberg.
Last week, I was quoted in the New York Times article that broke the story about New York City's new HIV treatment guidelines. In that article Health Commissioner Thomas Farley vaunted the benefits of immediate treatment for anyone diagnosed with HIV. I expressed strong reservations about the policy. I want to explain Housing Works position on treatment -- and our grave concerns about Farley's new recommendations.
Let's start with the science: No randomized studies have proven the benefit of starting people with HIV on antiretroviral treatment when their CD4 cells are above 500. The very first question in Farley's own "Frequently Asked Questions for Healthcare Providers" that accompanied his new treatment recommendations acknowledge that fact.
It is an outrage that the Health Commissioner would make a recommendation contrary to science -- but we've come to expect such outrages from the health department, which hasn't hesitated to put headlines ahead of sound policy when it comes to HIV.
It is true that there is anecdotal evidence that immediate treatment is beneficial. I initiated treatment within 10 days of seroconversion. My CD4s have never fallen below 800, and I have remained undetectable for 10 years. I've had no significant side effects of which I am aware. The fact remains: No study proves that my good fortune is a consequence of treatment or that there aren't negative side effects down the road.
Housing Works has long endorsed what is now ostensibly the federal standard: Providers should discuss treatment with anyone who is HIV-positive at any stage of infection. Meanwhile, we strongly encourage treatment for anyone whose CD4s are below 500, while educating people about the science, particularly people with other chronic conditions or pertinent psychosocial issues.
The clear prevention benefit of treatment should be discussed, too. Most importantly, people should be encouraged to make their own decision about ARVs, both as a possible "harm reduction" prevention strategy and as part of a life-long commitment to good health.
Advertisement
It is an outrage that Farley's "Letter from the Commissioner" does not instruct providers to educate their patients about the pros and cons of early treatment -- instead of participating in a decision to start ARVs, many patients will simply do what their doctors tell them to do. But then we've come to expect top-down command-and-control outrages from the health department when it comes to HIV.
It also comes as no surprise that Farley's FAQs for Healthcare Providers regarding the new guidelines mention partner notification services more often than they mention support services for the newly diagnosed. This misplaced emphasis illustrates the second reason we oppose the city's new treatment guidelines: The near complete disregard for the psychosocial impact of treatment.
There is ample research showing that structural supports to meet basic needs are critical to effective ARV treatment. Chief among these is stable housing, followed by access to reliable nutrition; affordable transportation to medical appointments; and case management. We know that HIV-positive New Yorkers with unmet subsistence needs are less likely to access care, to receive appropriate care or to adhere to treatment. In New York, a low-income person with AIDS has access to housing, food and transportation through our HIV/AIDS Services Administration. But to be eligible, you must have a CD4 count of 200 or lower or have had another qualifying condition for a diagnosis of AIDS.
The City, which under Giuliani and Bloomberg, has tried to cut funding to HASA, is now truly talking out of both sides of its mouth. Under the rubric of prevention, it wants to encourage everyone who is HIV positive to begin ARVs -- but without providing a penny to expand the basic interventions and services so vital to treatment adherence. If even partially successful in its effort, the City will see its AIDS caseload decrease, allowing it to decrease funding for the existing service system. At the same time, the evidence indicates that people while be less likely to be adherent enough to achieve the undetectable status that is the gold standard of prevention. While transmission rates may be slowed, we will not get the benefits promised by this dramatic intervention.
Do I even need to bother pointing out that it is an outrage that Farley's letter or FAQs for the new treatment guidelines don't mention HASA?
We've come to expect it.
Charles King is president and CEO of Housing Works.