My Fabulous Disease
The "My Fabulous Disease" Holiday Spectacular!

A Video Blog
By Mark S. King

December 7, 2011
My mother's home here in Shreveport, Louisiana, has been fraught with excitement the last few days. Christmas decorations littered the living room, the almond scent of cookies filled the air, and last-minute phone calls and arrangements made it all feel like a major production was underway.
And there was. The event that had everyone scrambling was held on a Sunday afternoon, when siblings and extended family arrived for the taping of "The 'My Fabulous Disease' Holiday Spectacular."
Episode 40: The "My Fabulous Disease" Holiday Spectacular!
Now just take that in for a moment. My family was enthusiastically participating in a video about my life with HIV. And they were much more concerned with choosing a fun holiday outfit than being publicly associated with their HIV-positive relative. For them, the interviews I would do with them about my HIV status, well, that was the easy part. They had no problem being candid about my HIV, as you will see.
I am an extremely blessed and fortunate man.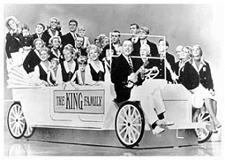 "The King Family"
When I was young, I remember watching "The King Family" on television, a big happy bunch that sang really well and wore lots of matching outfits. I was starstruck, and always wondered if that King family might bear any relation to mine. And if they didn't, would they let me come be on their show anyway?
Well, today, I'm proud of my own family for displaying our dubious talents, and by going a big step further by discussing the importance of supporting those of us living with HIV/AIDS. For far too many, the difficulty in disclosing our status -- or the result of doing so -- has distanced them from the people they need most during times of challenge. Whatever the reason, if you need to feel a little family warmth and acceptance during this holiday season, by all means, check out the video.
The Holiday Spectacular includes some family greetings, a cooking segment with Mom (you'll want that divine almond scent wafting through your home, too), a little philosophical drag, a surprise here and there, and even an appearance by the big man himself, Santa Claus.
You may remember my mother from "What it Feels Like for a Mom," a surprisingly candid video interview she did for me on Mother's Day last year. You might also remember my gay brother Dick, who made an It Gets Better video with me. He was also one of the main subjects of the award winning "Once, When We Were Heroes" posting I made for World AIDS Day several years ago. But today, you're also going to meet sisters, nieces and in-laws who have special holiday greetings just for you.
Enjoy the holiday special, my friends. And as always, please be well.
Mark
p.s. As promised in the video, here is the recipe for Mom's Christmas Cookies. I'm certain they're fantastic for your T cells.
(Note: Mother uses a MIRRO Food Press, a device that must have been manufactured during the Eisenhower era, judging from the faded instruction manual she still keeps handy. I found one on E-Bay for you for less than four bucks, or you can use a more modern appliance, if you must. I don't guarantee the cookies will taste the same!)
Time: 10-12 minutes... Temp: 375F... Yield: 7 dozen
1 cup shortening
3/4 cup sugar
1 egg
1/8 tspn salt
1/4 tspn baking soda
1 tspn almond extract
2 1/4 cups sifted flour
Green food coloring
Cream shortening, adding sugar gradually
Add unbeaten egg, dry ingredients, flavoring, and a few drops of food coloring. Mix well.
Fill the cookie press and form cookies on ungreased sheet. Sprinkle with sugar and bake.
Frost and sprinkle something fabulous on top of them (my suggestion, not hers).
Get e-mail notifications every time Mark's blog is updated.
Visit Mark's live blog at www.MyFabulousDisease.com.
---
Add Your Comment:
(Please note: Your name and comment will be public, and may even show up in
Internet search results. Be careful when providing personal information! Before
adding your comment, please
read TheBody.com's Comment Policy
.)