For our World AIDS Day 2011 section, we wanted to capture the diversity of the AIDS community. So, we reached out to people across the world -- regular contributors and those who have never written for us before -- and asked them to guest blog. These columns are written by people who are living with HIV, have been affected by HIV, or work in the field.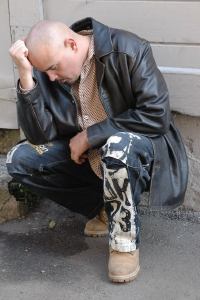 Frankie Ninja. Photo credit: Mitch Star.
Tears streamed down my face as I sat in one of the leading HIV research clinics in the U.S., Ward 86 at San Francisco's General Hospital. I was almost in a state of panic because I feared that I had acquired a nice touch of "walking pneumonia." It was a fearful experience exacerbated by the fact that for the first time ever, I was instructed to wear a face mask for safety. That one act alone made me feel embarrassed, unworthy, isolated. That some part of me was severely broken. I knew that it was a precaution but it only served to feed one of my darkest fears: that I had acquired an HIV-related disease.
Knowing that World AIDS Day 2011 is almost upon us, I became introspective about HIV and me. The fear I was feeling was only all too reminiscent of that day I was told I was HIV positive in May of 2007. I looked around the facility and realized that most of the staff was new. Some interns, some foreign exchange, others were just new staff. But, I also realized just how much has changed in just these four short years. Less staff, shorter hours, increased co-pay, to name a few. Heck, I'm lucky to get a LIVE operator now when I call in for care. Usually, I get a message to leave a voice mail. Terrifying, isn't it?
All this because California's budget deficit has taken a devastating toll on special care and services for people fighting HIV. Although I do not have the exact figure, the cuts total upwards of $135 million for the period of 2007 through 2011. More if you count the matching funds from the federal government/Ryan White CARE Act. Cuts to Medicare/Medi-Cal, ADAP and funding for local nonprofit organizations have been draconian. For example, dental care is no longer provided by Medi-Cal; and some places are no longer accepting new patients under the "CARE" program, which provides all too important dental services for people with HIV. Oral care is a major component of living with HIV. As such, the diminishing levels of dental services provided will ultimately have an adverse effect on the HIV community. Some organizations have just disappeared altogether, leaving the patient with more questions than answers.
It saddens and amazes me that in America, 2011, people living with HIV in California are facing limited doctor visits, increased co-pay for medicines (of those that are still covered) and increased share of costs. These costs are increasing in all aspects of our lives. For example, I personally have seen a 110 percent increase in my already discounted public transportation fees. I went from paying $10 per month for my public transportation in 2007 to $21 per month now, with talk of further increases in costs and decreases in services already cut. This may not sound like much to someone earning 50, 40, 30 or even 20 thousand dollars per year, but for those scraping by on just $420 of city-provided general assistance, that becomes quite a burden -- and sometimes the choice between mobility and nutrition (both key components in HIV care). These are the very people who can least afford these changes.
Advertisement
So, as I sat in Urgent Care I was relieved when I met my doctor, Dr. Lum. Her demeanor and bedside manner made all the difference in the world for me. She calmed me down with her soft eyes and easy manner of speaking. She listened intently and with that slight empathetic tilt of her head that subtly let me know that she understood that I was really hurting. I wondered to myself, how long will I be blessed with such incredible treatment from this "angel"? Will she still be here next year? Will I? What changes will the state's fiscal year force upon not only me but an unaware population that will increasingly depend on medical treatment for this as yet incurable disease?
World AIDS Day 2011 shines a light on the sacrifices of those that came before us, and casts a shadow on those sacrifices yet ahead of us. As organizations continue to merge in order to share costs, individual treatment is being replaced by things such as "group therapy." Now, there is nothing wrong with group therapy, but matters of confidentiality and personal safe space become an issue when a variety of services and locations is no longer an option. Public servants that at one time were dedicated solely to one organization are now forced to work part time for multiple organizations and with all the merging going on, it's becoming increasingly difficult to know who is providing what help, when and where.
Unfortunately these are things currently beyond our control. No one in the HIV/AIDS community is at fault for the current fiscal challenges facing all of us. However, we are all in the fight to squeeze every last penny out of every dollar to make the most out of what little we have left.
At the end of my visit, I was relieved to know that I did not have walking pneumonia, but was informed that it was a virus. I got lucky this time. I was tended to quickly, and with care and compassion. Dr. Lum's professionalism and demeanor was something that I will not soon forget. After the medicine she prescribed earlier today, I am feeling much better. It's not like the '80s, the beginning. When people with HIV/AIDS knew that a visit to the hospital was usually a one-way trip. At least today we can live to see another day. Will I be able to say the same on World AIDS Day 2012?
Something to reflect upon.
Frankie Ninja is a San Francisco resident, divorced dad, former pilot and Overall Father of The Legendary House of Ninja for the Western U.S.
Read more of The Ninja Report, Frankie's blog, on TheBody.com.
Copyright © 2011 The HealthCentral Network, Inc. All rights reserved.