For our World AIDS Day 2011 section, we wanted to capture the diversity of the AIDS community. So, we reached out to people across the world -- regular contributors and those who have never written for us before -- and asked them to guest blog. These columns are written by people who are living with HIV, have been affected by HIV, or work in the field.
Butch McKay
As we turn our thoughts to another World AIDS Day, remember that this year we recognize the 30th anniversary of HIV in this country. Locally we recognize the 20th anniversary of OASIS, and I personally recognize my 24th year of involvement in the HIV/AIDS arena. On the one hand, it seems like yesterday that we were hearing stories of the gay plague in New York City and San Francisco. I was so far removed from those two cities I felt AIDS would never affect my life. On the other hand, it seems like a trillion years ago, when I stop to think about all the wonderful people that have come into and out of my life because of AIDS.
As we reflect over the years, the faces of AIDS become a never-ending collage. As I focus on this collage and see the faces of so many friends, I find myself drifting off into another time and place. I see myself taking a road trip with my best friend Tivvis and laughing at all the mischief we could cause to others on the way. I can hear his laughter, see his magical smile and share a connection with his outlandish personality. He was so full of love and life and we shared a great adventure of friendship and love. The last time I hugged him, he made me promise to get involved and make a difference. That promise was the defining moment in my life.
Next I see the steel blue eyes of Johnny, my roommate, as he surveys his beautiful log home on Highland Lake. He had found peace and solitude in the simple life. However, he was always quick to pull a prank on me and others. He was the spitting image of Jeff Foxworthy and even sounded like him. God I miss his laughter.
Returning to the collage, I recall Don, the office manager at BASIC -- Mr. Organizer, I called him. He had more pride than anyone I had ever met. Never wanted for anything, was always happy and satisfied, never complained. When his health declined, I helped him move closer to the city and his doctor. I will never forget pulling into the driveway of his home that he had talked about with such pride. What I had envisioned and what I saw were two very different things. The man who never complained lived in a bread truck, showered outside with a garden hose and used a port-a-let next to the truck. I learned humility and pride from Don. He taught me that wealth is not measured in the things we possess, but in the things we share.
Advertisement
The next face I recognize is my friend Roy, the first person to die from complications of AIDS in Panama City. Roy was a nurse's aide at a local nursing home and was dedicated to his work and the people he cared for, while ignoring himself. No one knew he was sick until after he was gone.
Then there was Star, a nurse who told her doctor when he asked how she got AIDS that it was none of his damn business, that it was his business to treat her. She was a great teacher and went with me to all the schools to share her story so lovingly with the kids. I recall her friend Marcie, the mother of several small children who was involved with her church. A strong woman of faith who told her fellow church members she had cancer so they would not judge her. They cared for her, prepared her meals, took care of her children. One day when they accidently learned her real diagnosis the police had to be called in as they were trying to burn her house down with her inside. They didn't want AIDS in their church.
Next in my collage I see Jay, who returned home to live with his mother when he could no longer take care of himself. Their relationship was strained; she would not accept the lifestyle he CHOSE. She made an agreement with him that he could move home, if he agreed to be baptized. He agreed if she would agree to have him cremated. He got sick really quickly with PCP pneumonia and several other opportunistic infections. On a cold February night, she felt he was going to die and called her minister to the house after midnight. They picked him up out of bed and took him outside and baptized him in the unheated family swimming pool. He died the next day. He trusted his Mom to keep her promise, but instead of cremating him, she buried him. Those of you who know me, know that I am a sensitive man, but at the funeral when she asked me if I thought she was a bad mother for not honoring the agreement, I found myself telling her that there was a special place in hell for mothers like her. Jay was so trusting; why do people allow their religion to be so hurtful toward those they claim to love?
Moving on, I chuckle as I remember my neighbor Brian, the original class clown. Brian was a strikingly handsome man who had the greatest sense of humor. He would go to the "you pick 'em strawberry field" during the week and pick a couple of baskets. Every Sunday we would block off the street, set up chairs in the road and everyone in the neighborhood would come out for strawberry daiquiris. Brian wore out many blenders. His favorite saying was, you ain't wrapped tight. I remember some Jehovah's Witness women in the community always knocking on his door and he would politely tell them he was not interested in their materials. After several visits he asked them not to return, but they did. He finally devised a plan to end their unwanted visits: He opened the door butt naked and they ran screaming, never to be seen again.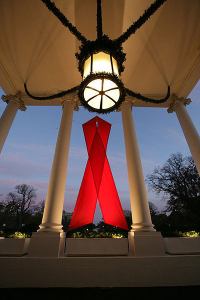 A nation remembers.
My collage keeps getting bigger. There is Burgess, the son I never had, but wanted. I met Burgess during his senior year in high school. He was dealing with his sexuality and lack of family support. I was like a surrogate parent that he could rely on. I went to his high school play Annie Get Your Gun that his parents refused to attend, as only sissies were in plays. I watched him grow apart from his family and saw him make many bad choices. Through his puppy dog eyes he could always manipulate me. When he got sick, he went very quickly.
Oh my God! I see Al, a friend of 45-plus years. Al was notorious in the gay community in Birmingham, truly one of the gatekeepers. He was a designer and a well-traveled man. It was rumored that he was the interior decorator for the MOB. He introduced me to my first porn star, Ryan Idol. A few years ago I was in Chicago and saw that Ryan was going to be featured in a play (he was making a career change from porn to acting). I went to the play and he invited me to dinner afterwards. He was asking about Al and I told him he was doing well. He wrote a note on the playbill to Al and asked that I give it to him. A few weeks later I tried to reach Al and couldn't, so I called a mutual friend and he informed me that Al had died unexpectedly. I asked when and it was at the exact moment I was with Ryan telling him Al was doing great. One never really knows ...
I could go on, but I think I've made it clear that for me, World AIDS Day is about memories of loved ones now absent from the table. If I just reflected on one picture in my collage per day, it would take me more than two years to tell you about each friend that I have lost.
AIDS has been a hard thing for all of us to deal with. I'm not alone; many others have counted their losses along with me. AIDS has robbed us not only of our loved ones; it has also robbed us of our future. How different the world would be if AIDS had not happened! It is chilling to think about all the great things that my loved ones alone would have accomplished. They left their unfulfilled hopes and dreams behind for me to salvage. They all occupy a special place in my heart, which has become heavy from the weight of so many memories.
To Tivvis, my first love to go, to my most recent friend, Debbie of Friends-Together, who passed just over a week ago, and to all those in between, I say thank you for your unconditional love, thank you for your incredible courage, and thank you for your passion. You are my heroes and I honor you today, World AIDS Day 2011. I find comfort in knowing that all of you rest in the arms of God. I miss and love each of you. Peace my friends!
Butch McKay is the executive director of Okaloosa AIDS Support and Informational Services, Inc. (OASIS), in Fort Walton Beach, Fla.
Copyright © 2011 The HealthCentral Network, Inc. All rights reserved.