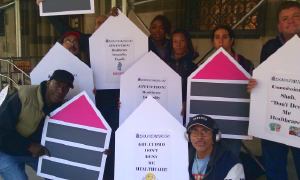 Housing Works activists rally outside Medicaid reform meeting.
Transgender health activists got a boost at Tuesday's Medicaid Redesign Team (MRT) meeting from NYS Assemblymember Richard Gottfried.
At the meeting, Gottfried said that a proposal to use Medicaid to cover transgender-related healthcare deserved to be reviewed by the MRT, specifically Gov. Cuomo's Basic Benefits Work Group. Gottfried added that he was "disappointed" that the proposal was refused a hearing in the Health Disparities Work Group.
"Assemblyman Gottfried provided the coalition with the hope that the proposal isn't dead, and can move forward," said Carmelita Cruz, Housing Works New York State Director for Advocacy and Organizing. "We may have a shot."
Despite Gottfried's comments, the trans health proposal faces a major hurdle: The Basic Benefits Group is co-chaired by NYS Commissioner Dr. Nirav Shah. As we've been reporting, Commissioner Shah refused to allow the Health Disparities Working Group of the committee to hear a proposal that would allow for transgender related health services to be covered by Medicaid
Activists from Housing Works, Sylvia Rivera Law Project, VOCAL-New York and Empire State Pride Agenda rallied outside and inside the meeting held at the New York Academy of Medicine.
"We're making sure transgender people are being acknowledged when they normally make decisions about us when we're not in the room," said Kiara St. James, a Housing Works transgender activist. "With so many trans folks who use or need Medicaid, it's ridiculous that they could deny us the right to the kind of health care we need.".
When activists arrived at the meeting, they brought along 600 signed petitions for the Medicaid Redesign Team from New Yorkers in support of trans health coverage under Medicaid, which were given to an aide of Commissioner Shah and to NYS Medicaid Director Jason Helgerson. Not only did they present signed petitions of support from New Yorkers, but the committee also received letters in support of transgender Medicaid health coverage from the American Medical Association, American Psychological Association, Health Education Alternatives for Teens (H.E.A.T) Program, Callen Lorde Community health Center, Mount Sinai Medical Center, NYC Bar Association, and Upper Hudson Planned Parenthood.
What's next? The coalition of organizations want to re-introduce the proposal in the Basic Benefits meeting, but details have not yet been announced.
Proposed NYS Trans Medicaid Policy