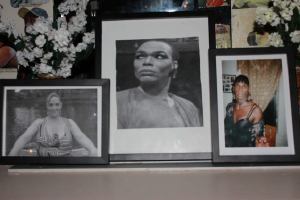 Housing Works Remembers Tracy Bumpus, Paris Dupree and Terry Campbell.
Tracy Bumpus, Paris Dupree, and Terry Campbell -- these are just three of the transgender leaders close to Housing Works whom we lost in 2011. And on Monday's Transgender Day of Remembrance, they were celebrated at our East New York Site through song, performances, readings and commitment to action.
"I am a gay man from a small town from a certain era, and I thought I knew what discrimination was like," said Ken Robinson, Housing Works VP for Operations, and the person who gave Bumpus her first job at Housing Works. "But I didn't really know discrimination until I had transgender friends, who have to walk out the door every day prepared to fight."
Coordinated by our East New York Transgender Transitional Housing Program in Brooklyn, the event featured moving performances by Jada Frederick, LaShaye Simmons, the astounding Housing Works East New York Choir, and NYC drag legend The Lady Jasmine.
Other speakers gave heartfelt appeals for the trans community to keep up the fight on issues like passing GENDA in New York State, and Housing Works' own campaign to reform Medicaid to include coverage of trans related health care.
During the closing candlelight vigil, as the 50 attendees gathered close, a plea for trans-unity came from Tracy Richotte, residence manager of Housing Works' Transgender Transitional Housing Program, saying "Let us take a moment to remember to respect and love each other. When we act against each other, we do violence against each other. Let's end it."
(Please note: Your name and comment will be public, and may even show up in
Internet search results. Be careful when providing personal information! Before
adding your comment, please
read TheBody.com's Comment Policy
.)