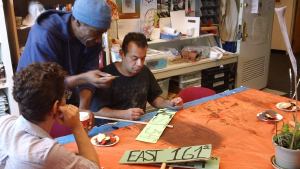 Housing Works clients make props for new play on surviving homelessness.
Many of NYC's poor, homeless and HIV-positive residents know that the image of the "Big Apple" isn't all its cracked up to be.
On Tuesday, clients from Housing Works' West Village health center performed their own original play called The Worm in the Big Apple. The play demonstrated the hardships of being homeless and navigating the city's social service agencies that are supposed to help.
"This was more therapeutic than most people would think," said Juanita Chestnut, who played both a homophobic sister and an uncaring HASA caseworker. "I was able to get over a lot of stuff I've been through trying to get services by this theater performance."
The play centers around a character, played by Levorne Moore, who is evicted from his home, and follows him through his attempts to get services. He is consistently mistreated by city agency staff and fed conflicting information.
"I moved to New York from Alabama seven years ago, and it was very hard trying to get help," said Moore. "I feel this show will help young people and people who come to New York from other states to navigate the system."
The Housing Works actors created the show in conjunction with Theater of the Oppressed, NYC, an organization that works with communities and institutions to create popular theater troupes. The troupes are equipped to tour throughout various communities to engage in theatrical brainstorming or "forum theater," which helps residents brainstorm solutions to their pressing problems.
"This show has given our clients an outlet to be advocates by using their creativity," said Housing Works Recreation Coordinator Candace Rivela.
The cast will be performing The Worm In The Big Apple in February at the Housing Works Bookstore, date and time to be announced.
Here's a snippet from Thursday's performance, where Moore's character gets frustrated with the HASA bureaucracy.