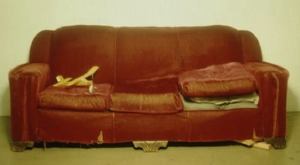 Adequate Housing? NYC Homeless Commissioner Diamond thinks so.
NYC Homeless Commissioner Seth Diamond told the City Council today that couch surfing, or crashing with a friend or relative is "adequate shelter." Diamond was reporting to the Council's General Welfare Committee on the controversial plan to require proof of homelessness for people seeking access to the shelter system in New York City.
"I think it's ridiculous that they would ask someone to prove they're homeless and don't have any relatives to stay with," said Derrick Chandler, Housing Works New York State Issues Organizer, who attended the hearing. "No one enters the shelter system because it's fun. This whole thing could drive more people into the streets."
Just this morning the Wall Street Journal reported that the city's shelters housed over 40,000 people last week, a record high.
Explaining his rationale, Commissioner Diamond said that "less than 15 percent of those seeking shelter report a history with street homelessness. In fact, 60 percent of men currently seeking shelter were living with family or friends before they arrived at intake. We believe that ... we can identify applicants who can safely return to available housing resources in the community."
Diamond seems to be saying that, since most people seeking shelter have recently left a location where they had been couch surfing, they should simply go back where they came from.
The City Council members who spoke at the hearing were clearly angry with the policy change and took Diamond to task. He said that homeless New Yorkers seeking shelter can always ask for a fair hearing or retain a lawyer if they are unhappy with the intake process.
The Commissioner did not give an estimate regarding how many homeless people have the resources to retain a lawyer in pursuit of a place in a New York City shelter. We are going to go out on a limb and guess it's a small number.
Read Commissioner Diamond's testimony below.
Commish Diamond Testimony 11.9.11