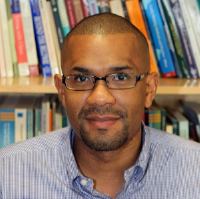 Patrick A. Wilson, Ph.D., lead author of the study.
Black churches struggle with homophobia? Not so surprising.
What is more surprising is that, according to new research out of Columbia University, Black churches already have existing health outreach strategies that could be of enormous use in HIV prevention for Black MSM parishioners. Now, we're talking!
A new study published in the journal Global Public Health found that many Black church pastors and parishioners were successful using "Your body is a temple" as a theme to mobilize congregants to take better care of themselves with regard to health issues like healthy eating and fitness. That same message, however, became problematic where sexuality was concerned.
If gay sex is associated with sin, then "taking care of your body" can translate into "gay sex defames your body in the eyes of God," according to the study. If churches flipped the scripture and used the idea of treating your body well as a way to promote safer sex messages, the researchers say it could bring gay parishioners into HIV mobilization efforts and be a critical site of intervention for Black MSM.
The study also pointed to a persistent dichotomy where religion and sexuality are concerned: Researchers found that many churchgoers were uncomfortable discussing sexuality, and when they did, it was often with homophobic narratives (e.g. "Love the sinner, hate the sin," and "Don't ask, don't tell"). Those narratives prevented them from extending their HIV/AIDS efforts to Black MSM community members. At the same time, churchgoers were well aware that their church had LGBT members, including many in leadership positions.
If Black churches can finally bridge the gap to include Black MSM in their HIV prevention strategies, we may all let out a collective "Amen!"