Aaron Laxton: My HIV Journey
By Robert Breining

November 28, 2011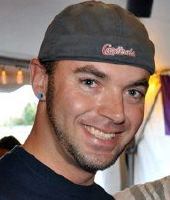 Aaron Laxton
On Sunday November 13th, Robert and Jeromy spoke with Aaron Laxton. Aaron is a 32-year-old graduate student from St. Louis, Missouri with a passion to help others. On June 6, 2011, he got news that would forever change his life:prior to this he was HIV positive. Prior to this, Aaron was a national youth speaker who spoke all over the United States. It was looking into the face of this diagnosis that he knew what he had to do.
Almost instantly Aaron started to blog each day about his journey with HIV and now has quite a following from around the world on YouTube. Aaron also works locally in St. Louis to educate others about HIV as well as letting his story help others. Aaron is currently in school for his Masters of Social Work and he plans on specializing to work with HIV/AIDS outreach and education. This week an interview featuring Aaron is being released on positivelite.com.
Additionally Aaron is also in the midst of raising over $20,000 for the AIDS Lifecycle in which he will ride next summer. The AIDS Lifecycle is a 545-mile bike ride over seven days from San Francisco to LA. Visit Aaron's YouTube Channel "My HIV Journey."
Get e-mail notifications every time Robert's blog is updated.
---
| | |
| --- | --- |
| No comments have been made. | |
Add Your Comment:
(Please note: Your name and comment will be public, and may even show up in
Internet search results. Be careful when providing personal information! Before
adding your comment, please
read TheBody.com's Comment Policy
.)