For our World AIDS Day 2011 section, we wanted to capture the diversity of the AIDS community. So, we reached out to people across the world -- regular contributors and those who have never written for us before -- and asked them to guest blog. These columns are written by people who are living with HIV, have been affected by HIV, or work in the field.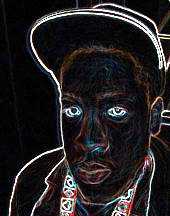 Allen B.
Growing up in church and being gay was one thing. But when I was diagnosed as being HIV positive in October 2009, I had no place to run but to God. I could not disclose to my mother or any other family member because I didn't want to deal with the judgmental stares and looks and the sounds of self pity. I didn't want anyone feeling sorry for me or the mistakes that I had made. For that reason I did not disclose to my family and as of now I have not yet. I eventually will in the future.
As soon as I found out that I was positive, I didn't tell anyone for like a day or two. I happened to tell a friend; he called me right away and comforted me. In church I held my status as a secret for two months until I finally got the courage to tell my pastor on his birthday. Bad timing on my part, but the thought of needing spiritual support was eating me up inside. Being gay is one thing in the black community but being gay in church is a no-no -- except when the church has no members, and they find the first gay off the street to make up the praise team and the musician staff -- then it's OK, but still a no-no. Gay is tolerated if it comes with talent, but is not tolerated if you are a pew warmer.
Being HIV positive in church is another story. Being gay in church is the topic of gossip, but let someone come up as being HIV positive; then it becomes a whole other conversation. "Well they deserved it for living an immoral life," and "God hates the homosexual." Who in their right mind would want to disclose in that type of environment of people?
Advertisement
I once read a statement in a Sunday school lesson: "There is no such thing as a disrespectful Christian." That's a pretty powerful statement to me, and for someone living with HIV and dealing with their sexuality and other issues in life. If there is no such thing as a "disrespectful Christian " then we wouldn't have the babies out of wedlock or, for that matter, the whole conversation on HIV in church. Yes it does exist and not just in the gay community but in the straight community as well.
I discovered an affirming (all-inclusive of everyone) Pentecostal church. In one church there are more than two or three people that are HIV positive and they share their stories to the congregation as a whole because it helps people. You cannot do that in the mainstream church if you are not comfortable with who you are or in the small town that you are from.
Speaking of small towns, that is another stigma that people face. I live in a small town, population 12,000; the majority of people know of me, and the smaller gay community knows me as well. So being in the church community and the general community, it is hard to disclose and you have to be very cautious of disclosing your status and who you disclose it to because it can make or break you. I've had incidents where I have disclosed too early, and that has led to rumors and also funny looks and whispers.
Also, another thing is when you go to church and the pastor happens to speak up on HIV. It's awkward because some people may know your situation; or it may be a ploy for the pastor to call you up to prayer and for you to tell your story to the entire congregation. "Umm ... not today, Pastor."
As World AIDS Day approaches, I feel that there is still more yet to be done in the African-American community to combat stigma -- especially in the church. Currently the church I attend does not have any events coming up for World AIDS Day, but once I address the congregation about HIV/AIDS I think that people will be informed and educated. My prayer this World AIDS Day is that I have more courage to speak up to help my community combat HIV/AIDS and to fight the stigma that stands.
"This a big step of courage for me," says Allen B. -- a young, gay, HIV-positive African-American man living in a small town in the U.S. "I'm excited to make a difference in my community."
Copyright © 2011 The HealthCentral Network, Inc. All rights reserved.
Comment by: Andy
(Mississippi) Sat., Dec. 10, 2011 at 12:02 am UTC
Thank you for ur posting. After reading, I didnt feel so alone. I, too, am in a small town where I gave my testimony & after a few weeks, months, I started to get the whispers, the looks, & such around town. The church can be double sided when it comes to what they see as sexual sin and many churches seem to cast out those they deem unworthly. It was a price I paid for speaking, but it hasnt slowed me down I want to thank you for your post. Enjoyed ur humor w/a very serious message; Not sure if uve had this experience but people in the church need to udnerstand God does heal in different ways. He has given us these meds to carry on w/life & thats a mircle. Im so tired of folks saying,"Ur healed" when I know that I have to take meds in a few hrs. It gets old. If they would show more interest & include me in things besides calling me to the front to lay hands to say 'Ur healed' then ,maybe it wouldnt be so frustrating. I believe God works in wonderous ways; but most folks in church need to get to know our situation.We are more than alter calls or healing services-we are people who need connection w/other church members. I believe the healing stuff makes them feel as they are being of service cause thats all they seem to do w/me. Not invited to much of anything unless its a healing service-I want to get invited to something with food (which I do, but Im just making points here.)