For our World AIDS Day 2011 section, we wanted to capture the diversity of the AIDS community. So, we reached out to people across the world -- regular contributors and those who have never written for us before -- and asked them to guest blog. These columns are written by people who are living with HIV, have been affected by HIV, or work in the field.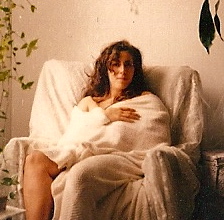 River Huston
World AIDS Day makes me sad. For me it is a day of mourning and grief. Even though I will stand up in front of yet another group of students and talk about how this is a preventable disease, I have no delusions after 22 years that my one talk will make much of a difference in their behavior. I might plant some seeds. I might be part of a cumulative message that eventually helps some of the people make better choices. But regardless, I will continue to speak about the need to advocate for better safe sex methods and accessible information for all types of groups around the world. I will write, paint and perform in hopes of finding alternative ways to reach the hearts and minds of the human race when it comes to AIDS education.
The theme of this World AIDS Day is Getting to Zero. It is an ironic theme for me because I have found myself on a tropical island in St. Thomas, U.S. Virgin Islands, co-directing a nonprofit art alliance that brings alternative art to the community -- think 1960s Greenwich Village. It is amazing. The alliance is called sevenminusseven (Find out what we are up to on Facebook). People always ask about the name. I say it means nothing. Our last show was called "Less Than Zero."
But in reality, zero means a lot to me. It would be remarkable to have no more cases of AIDS. Zero is such a perfect concept; and maybe there will be a groundbreaking discovery that can eradicate the virus forever. To think people worldwide will start changing personal habits around sex and drugs is a nice thought; but in my experience, it's not realistic.
This is my 22nd World AIDS Day, and the changes from the first till now are stunning. Many of us, especially in the United States, have the possibility of living out our natural lives. I have more hope of having zero deaths due to treatment than zero infections due to prevention. That in itself would be miraculous. I think of all the people I loved who did not make it to 1996 with the advent of combination therapies that saved so many. I think about those who died from the side effects, old age or a plethora of other fatal diseases. I think about what their lives would look like if they'd survived.
Last year I made a DVD based on my book, A Positive Life: Portraits of Women Living With HIV. About a third of the women involved in the original book have died. I contacted the women who survived, and it was poignant to see what a person can do with an extra 17 years. With the exception of one person, no one gave up -- and even that one person recently came around and got clean and sober. The rest of the women had children, went to college; one became a lawyer, another ran a marathon, two started nonprofit organizations, some became advocates and some became grandmothers. All these precious women survived to take a place in society and make changes, small and big, but mostly to be there. Keep that place of loved filled. So their friends, sons, daughters, mothers, fathers, brothers and sisters can pick up the phone or stop by, feel the warmth of their hugs, get some advice or share a meal.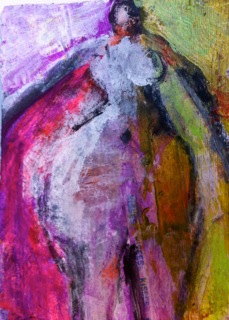 From the Round, Ripe and Juicy collection; by River Huston.
In everything I have been through -- which includes homelessness, addiction and prostitution, as well as success as a writer, performer, painter and international speaker -- none of it compares to the ability to spend a day or a few hours with someone I love, to laugh and sometimes cry, share or to even complain about the bullshit of life. It is when that place is suddenly empty that you appreciate these simple moments.
A friend of mine died of a heart attack this past summer. I still reach for the phone or start an email. The emptiness of his vacated life is acute. Some nights I am filled with such need to talk, but I talk to the sky and the sea. I let the tears fall and I am grateful for everyone still here. His death was another reminder to be present. If I am mad, I am sure to tell the person so we can resolve it. If they do something sweet to make me happy, I make sure I let them know. I try my best to be a part of my friends' lives and be a presence in the community.
This journey is brief. For me it will never again be about my successes or failure; it will be about the day, and whether I smiled, stayed open, was of service and found something to be grateful for.
I feel blessed to have made it this far. I am truly in the bonus rounds of life. I hope we make it to zero and one day the terror of AIDS becomes a distant memory.
I often post this poem on World AIDS Day. I think of it as a declaration of living.
Death Is for the Dead
AIDS AIDS AIDS
fuck it man
I'm saying it
when I was little
I asked my mother
what fuck meant
and she said
FUCK FUCK FUCK
that's what it means
The world looks
and sees what it wants
They have memorials written
They have you wasted and dead
skeleton in your bed
AIDS AIDS AIDS
Oliver Wendell Holmes
once said
"To find true happiness
get a terminal illness
and take real good care of your self"
real good care
pajama parties cookies and milk
afternoon naps kinda care
lots of LOVE LOVE LOVE
I see angels flying
above everyone's head
I see miracles all day long
in oranges
brown fat crawly bugs
on the big time journey across the towpath
ducks in winter
Ginkgo trees raining yellow
GINKGO GINKGO GINKGO
my dog smiling and wagging its tail
to the rhythm
of three sweet altos
"knock, knock, knocking on
heavens door"
lint and dust dances in the afternoon
toy buddhas on 202 talking to wild things
toothless old men
who caught wild fish in Finland
who keep youth in blood
pumping flowing free
Rivers are always miracles
they aren't stopped by rocks
bridges boulders beer bottles old tires dead bodies or even dead refrigerators
they go around over above under
embracing all they touch
they never go back
to the beginning
to get it right
changing forever
seeking accepting expanding being
We have
mortal worlds
filled with gods
Buddha Christ Vishnu Mohammed and Henry
the hitchhiker's god
they walk us through
to the end
shedding our named coats
our finely pressed out laid out
figured out
fitted in life suits
no expectations
no more mundane earthly matters
9-5 skull famine
weight loss facelifts fashion statements
free to go home
the early release program
do the mambo till dawn
safe sex erotic safe sex
free of judgment guilt and shame
Death is for the dead
and living is for every one else
AIDS AIDS AIDS
Hey I said it
don't memorialize metaphorize hypnotize categorize or sanitize me
its hard enough living with an illusion
no more definitions of my death
no more sympathetic death sentence eyes
I'm not dead dying
no siree bob
I'm living
just thought I'd let you know
River Huston is an award-winning poet, journalist, performer and activist currently living on Water Island, U.S. Virgin Islands.
Read more of A River Runs Through It, River's blog, on TheBody.com.
Copyright © 2011 The HealthCentral Network, Inc. All rights reserved.