Where Are the Men Who Love Women? A Brief Meditation
November 21, 2011
For our World AIDS Day 2011 section, we wanted to capture the diversity of the AIDS community. So, we reached out to people across the world -- regular contributors and those who have never written for us before -- and asked them to guest blog. These columns are written by people who are living with HIV, have been affected by HIV, or work in the field.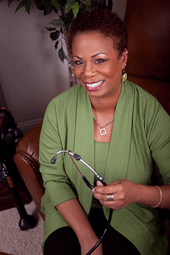 Bethsheba Johnson, G.N.P.-B.C., A.A.H.I.V.S.
Last time I heard, all men had an "X" chromosome, which means that there was a woman involved in the creation of every one of them. It doesn't seem to make a difference if it was artificial insemination, in vitro or the old-fashioned method: There was a woman involved.
When reviewing the HIV advocacy movement over last three decades, I have heard so much about HIV prevention for men, by men -- whether gay, heterosexual, bisexual, curious or any other permutation -- that I truly wonder if anyone remembers that a female was involved in the creation of all men. Shouldn't men be advocates of all and not just their own gender?
As a health care provider and a female, I primarily see gay men in clinic every day. My advocacy is no less for men than it is for women. Men, we need more of you speaking out on HIV prevention and assisting in program development for the sake of your grandmothers, mothers, aunts, sisters, cousins, daughters and friends.
We were all created by the bonding of an egg and sperm. Without women there would be no men, gay or heterosexual. I'm just asking!
Bethsheba Johnson, G.N.P.-B.C., A.A.H.I.V.S., is an associate medical director of St. Hope Foundation in Houston, Texas. She is a regular contributor to HIV Care Today, a multi-author blog on TheBodyPRO.com featuring people on the front lines of HIV treatment, prevention and patient/client care.
Copyright © 2011 The HealthCentral Network, Inc. All rights reserved.
---

This article was provided by TheBody.
---
Comment by: Andy
(Cleveland) Sat., Dec. 31, 2011 at 4:44 pm UTC
To an extent, I agree. All people should be taught to protect and prevent, and all people affected by this disease should have a place at the table. With that said, Women are underrepresented in the discussion, but thats because they are also underrepresented amongst the population of people with the disease. If we were having the same conversation about the need for women to educate men on the dangers of male breast cancer, would your words still resonate?
Regardless, the mere fact that the "advocacy movement" is expected to speak out on prevention is itself indicative of a deeper problem, as people with HIV should be concerned with their own rational self interests, and not the interests of others who happen to be like they once were. Too much of our "advocacy movement" is altruistic, and altruism is self destructive when it is not reciprocated. Real progress will not come when men with HIV start talking about prevention for women, but when those with HIV start to ask why the needs of women with HIV are not addressed in various forms of research and the provision of services.
Comment by: Leah
(Kamloops Canada) Sat., Dec. 31, 2011 at 2:13 am UTC
I agree
Comment by: Paul
(South Africa) Fri., Dec. 9, 2011 at 8:48 am UTC
Unfortunately you live in a society where HIV was 1st diagnosed in the gay community and therefore is still perceived as a gay "disease". Come to Africa or more precisely a "non-western" country and the situation is completely different. Here it is a heterosexual "disease" and everyone knows that. It was never considered a gay "disease" from the onset as it affected everyone all at once.
Until the gay "disease" perception is eradicated in the USA, you will not find many heterosexual men around for what you want. Even for me being a married man to wife who is also HIV+ it is difficult to find on-line information that I can relate to as most of the sites including thebody.com mostly talks about gay men and their problems.
Comment by: Nkwenge A
(Uganda) Fri., Dec. 9, 2011 at 2:54 am UTC
You are a beautiful woman. I wish you were near me. We would be friends.
Comment by: Mike R
(Florida) Thu., Dec. 8, 2011 at 2:31 pm UTC
Actually, if men have XY chromosomes, and women have XX chromosomes, only a man can make a woman, but a woman cannot make a man--they just don't have what it takes. If asexual reproduction was possible, two men could make a man or a woman, but two women could only make more women.
HIV doesn't care if you are man or woman, so gender is irrelevant.
Add Your Comment:
(Please note: Your name and comment will be public, and may even show up in
Internet search results. Be careful when providing personal information! Before
adding your comment, please
read TheBody.com's Comment Policy
.)