For our World AIDS Day 2011 section, we wanted to capture the diversity of the AIDS community. So, we reached out to people across the world -- regular contributors and those who have never written for us before -- and asked them to guest blog. These columns are written by people who are living with HIV, have been affected by HIV, or work in the field.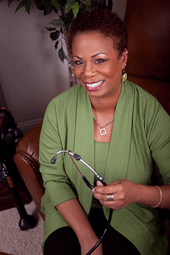 Bethsheba Johnson, G.N.P.-B.C., A.A.H.I.V.S.
Last time I heard, all men had an "X" chromosome, which means that there was a woman involved in the creation of every one of them. It doesn't seem to make a difference if it was artificial insemination, in vitro or the old-fashioned method: There was a woman involved.
When reviewing the HIV advocacy movement over last three decades, I have heard so much about HIV prevention for men, by men -- whether gay, heterosexual, bisexual, curious or any other permutation -- that I truly wonder if anyone remembers that a female was involved in the creation of all men. Shouldn't men be advocates of all and not just their own gender?
As a health care provider and a female, I primarily see gay men in clinic every day. My advocacy is no less for men than it is for women. Men, we need more of you speaking out on HIV prevention and assisting in program development for the sake of your grandmothers, mothers, aunts, sisters, cousins, daughters and friends.
We were all created by the bonding of an egg and sperm. Without women there would be no men, gay or heterosexual. I'm just asking!
Bethsheba Johnson, G.N.P.-B.C., A.A.H.I.V.S., is an associate medical director of St. Hope Foundation in Houston, Texas. She is a regular contributor to HIV Care Today, a multi-author blog on TheBodyPRO.com featuring people on the front lines of HIV treatment, prevention and patient/client care.
Copyright © 2011 The HealthCentral Network, Inc. All rights reserved.