For our World AIDS Day 2011 section, we wanted to capture the diversity of the AIDS community. So, we reached out to people across the world -- regular contributors and those who have never written for us before -- and asked them to guest blog. These columns are written by people who are living with HIV, have been affected by HIV, or work in the field.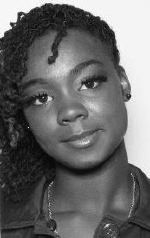 Shateria Smith
Even though I didn't have to take 11 pills a day, he did. I've never weighed a frail, sickly 80 pounds, but because of IT, she did.
The "he" is my daddy. The "she" is my mama. The "IT" is HIV. And the one left to deal with the harsh reality of IT is me. I'm 20 years old now but when I was 11, I was officially classified as an orphan. My daddy died first, when I was 6. My last conversation with him was about me listening to my mom and learning about Jesus. The next time I saw him, Mama told me that he was "asleep." I didn't understand why he wasn't waking up or why he didn't hear me talking to him, but at 6 years old, there are lots of things you don't understand. Death, especially of somebody so close, was one of them.
Five years later, I watched my mama's health decline. This was hard for me because my mama was the life of the party; to see her just stuck in the house in her bed hurt my heart.
She got so bad that I moved in with her mom, my Granny. The responsibilities of taking me to school, helping me with homework, buying clothes, feeding me -- all fell on my Granny's shoulders. But that wasn't the heaviest weight for her. She was witnessing her firstborn child die a slow death from HIV. Up until about two weeks before she went into the hospital, I never knew exactly what was wrong; and I remember the day my mama told me that she had it.
Granny and I went to my mama's house for me to get some clothes. She called me into her room. "Come sit by your mommy, Shateria. How have you been?" I knew she was just trying to make small talk so I answered, "Good, Mama. Now what is wrong?"
Advertisement
"I have HIV. I've got AIDS and baby, I'm gonna die." She told me just like that and then she started to cry.
"Well, do I have it?"
"No. We got you checked when you were 3, when I found out that I had it."
"But how did you get it?"
"Your daddy gave it to me but I honestly don't think he knew. We should've been protecting ourselves. We should've used protection. I told Mama I wasn't gone tell you and have you worried about me 'til I couldn't physically take care of you anymore."
"But how could he not know? How could he ..." There were so many things running through my head.
"Listen," she interrupted me, "I want to ask something big of you. I don't want you to be angry with him. It happened and now I live with the consequences."
The next morning, we took her to the hospital where a week later she passed away.
I wake up some mornings and just want to see my mama's smile or hear my daddy say my name. The truth of the matter is that you don't have to be infected to be affected by HIV. I am affected so I have just as much responsibility to educate others about this epidemic. Yes, it is your sex life, but your decision about who you decide to sleep with affects the people in your life that love you.
IT took him and her from me, so I'm fighting for the cure in their memory. My goal is to educate others on a national and international level about the effects of HIV. Be educated and be responsible.
Shateria L. Smith is a 2009 Girls Preparatory School graduate and full-time college student at the University of Tennessee at Chattanooga, where she is majoring in business entrepreneurship. Shateria also volunteers and speaks publicly for Chattanooga CARES, a local HIV/AIDS support nonprofit organization. She is also currently working on a book, And I Know He Watches Me: A Memoir.
Copyright © 2011 The HealthCentral Network, Inc. All rights reserved.